DIY Pallet playhouses are great playing and entertaining platform to make your children indulge in extracurricular activities. There are lots of families and parent who considered the playhouse idea a useful and encouraging plan for children but cannot proceed to have it for their kids due to heavy expenditure on its purchase or makeover. But believe us we are going to give you a phenomenal plan which is handily constructable without any trouble and hitch; it is also an inexpensive thought to save your money and to make it affordable to every needed person who loves his kids passionately.
The outdoor pure environment and outdoor playing activities help a lot to make your child stronger, sharper and taller. You can say that it is very necessary doze for proper and healthy growth; the growth will be that of mind and also the physical. Not only your children can play in it but also will get a calming shelter in summers. The inclusion and enlargement of entertaining features are never ending and are also linked with budget at some extent. You can add sliding, hanging and exercising units, monkey bars, the jumping platform and many more. Some schools also make these playhouses for little children to avoid crying by making the playing with it.
To land your playhouse at outdoor of your home which may be your garden or very backyard place of your home, you need to make access the pallet wood which will be used in throughout construction and framework. Grab your pallet wood where your find it easy to pick up for home the recommended location to check for pallet are the surrounding of a construction area, from shipping companies, and direct way to purchase it from DIY store.
Make yourself satisfied with the wood that it may not have been treated chemically during the service as shipping pallets. If you are buying it from some DIY store then choose tagged pallet with some company name stamp on each board, this will illustrate the details of the conditions in which this pallet has been treated for example the temperature, used chemicals and purpose of using this pallet, all you can check. In addition, choose always the soft wooden pallet which is significantly easier to handle and for framework, the pine and mahogany pallet wood will be the rocking choices for calmly and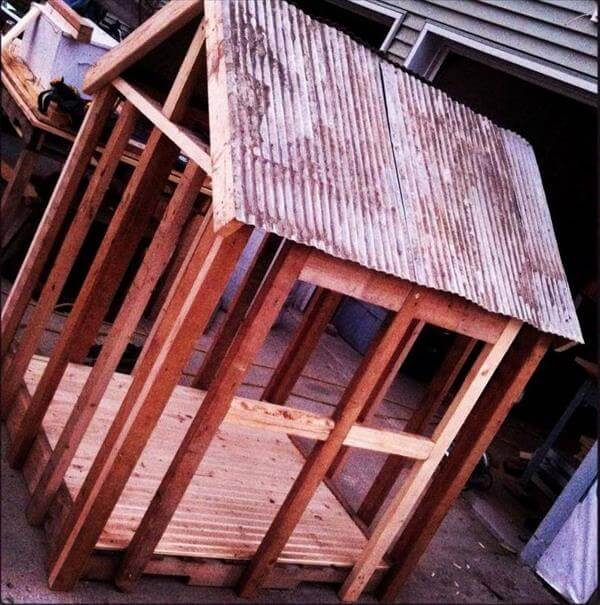 Firs of all make the ground and infrastructure with nicely assembled wooden pillars with glue and nails. The dimensions can be changed to any layout you want to get your hands onto. The wood has considerably been brought to new and remarkable appearance by rubbing and varnishing. You can also plan a stain for all included wood for durability issues.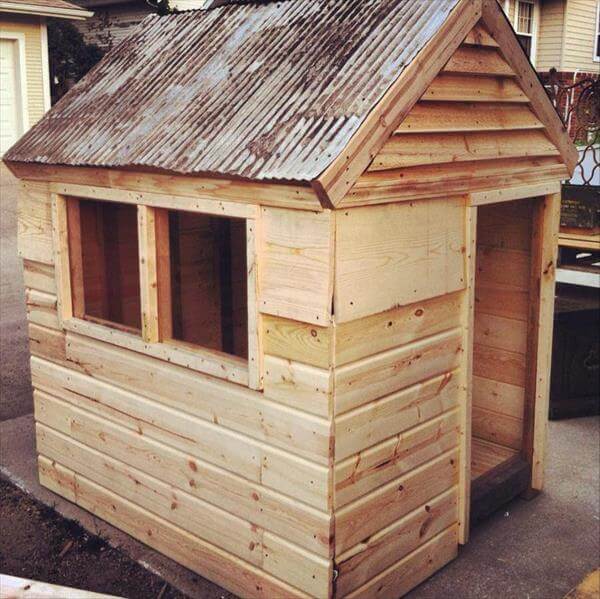 Then we filled the tightly held ground structure with finely gritted and sanded planks which are looking pretty cool in brand-new emergence. The sanding made through electrical tools will get high rank and better wooden results. The shelter we have chosen metallic in nature for competing with water and weather effects. The roof has been made in graceful chevron design to gain more and more captivating sensations and focal stimulation.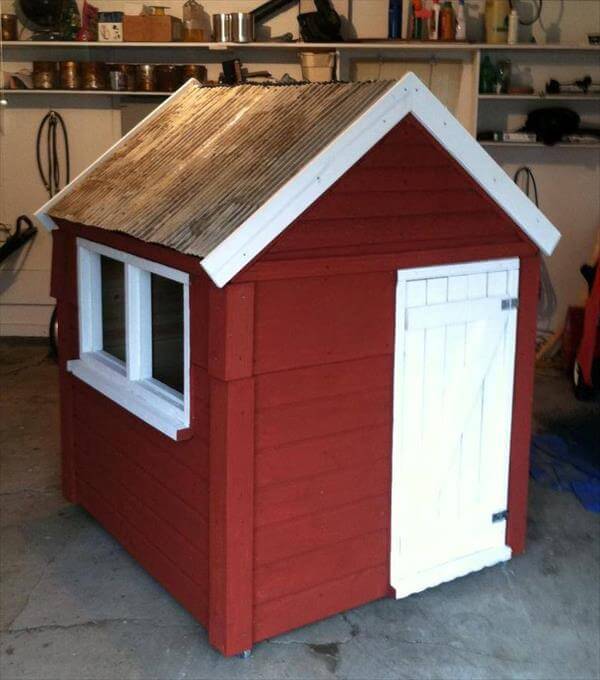 A little cozy door and two little and funky windows have also extracted to make the entry to it and window will provide a controllable system to get desired amount of air and heat. Both door and window have been got white washed for bewitching white appearance on hot red.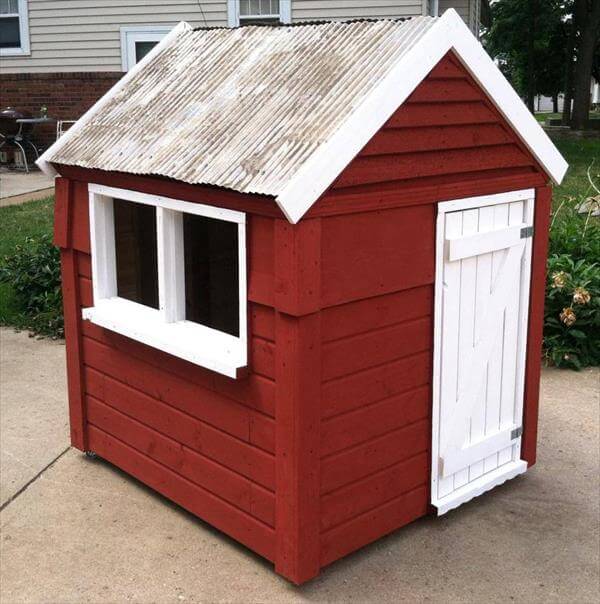 The project of pallet playhouse is all about precision and perfection which you will have to be manage in taking measurements and making the marked cuts. The colors, paints, patterns of door and window can go through countless and endless changes according to personal desire and selection. The all stunning and spectacular pallet playhouse we regained from pallet, has fully been got in thrifty manner. Set a suitable location to it and let your child get in and play with it. More about pallet projects: 5 DIY Pallet Furniture Projects