A one Year pallet wood which is used in American shipping trades is in so large quantity that about 84% of world's houses can be built out of it according to I-Beam survey. This is pallet quaintly survey which is produced in United States only, now assume that how much pallet wood the whole world can produce in one year! It would be a very big amount which would be left after assigning each family a separate pallet house.
But if we go for the estimation of pallet wood produced in US only, then approximated 33 million people can be secured and lived in each separate pallet house prepared with handmade tweaks and effort.
The design set by the I-Beam is so simple that any family can built it at home in about 2 days of continues effort.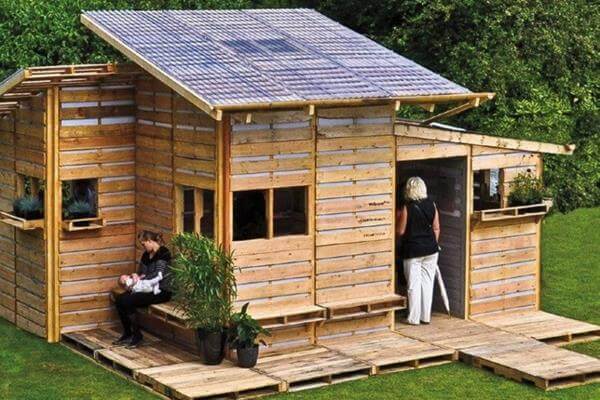 Very brave and brilliant idea for complete dwelling at outdoor with electric supply through solar plates for illuminated and featured residence and refuge. Here we have not shown the solar plates but this transitional shelter can easily be shifted to solar plate platform.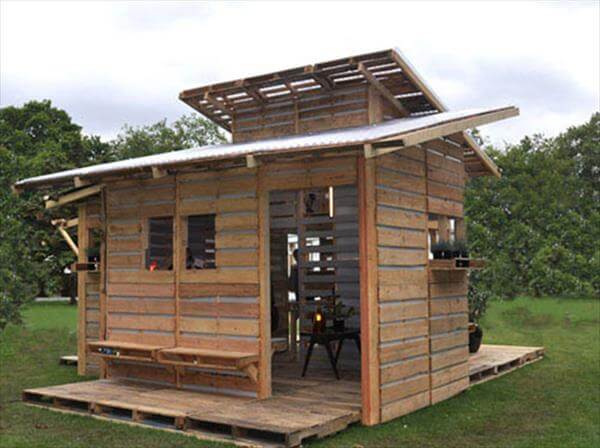 This pallet shed design is executed with all cozy and modern features to live in or sit at out. The separated rooms and dining facilities have also been put for daily routines.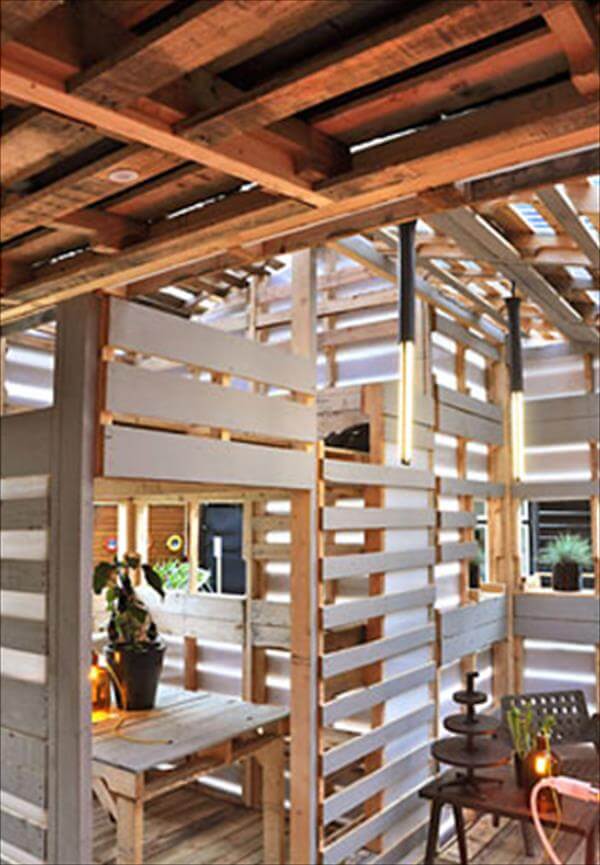 The whole pallet stock for this shed project has been sanded and white washed to get splinter free and durable smooth wood for stability of this wooden refuge. The roof. inner tables, room walls and joining junctions have all been synthesized with pallet wood, the affordable luxury wood.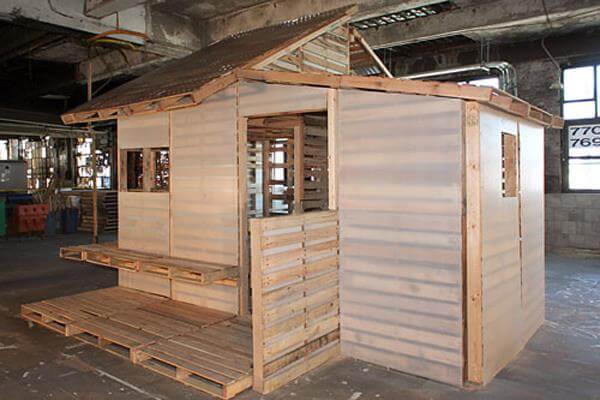 The flooring and main entry would be the first preference in whole framework for pretty cool appearance. Many things from home scrap and leftover material can be add to this pallet house like old windows, burlap and tarps, old toys and tires.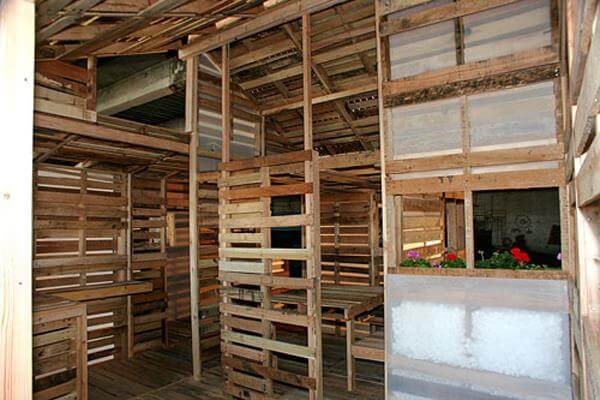 The plastic sheets from home discarded material will also be a durable addition to pallet walls to avoid spiders and little insects which are harmful to wood.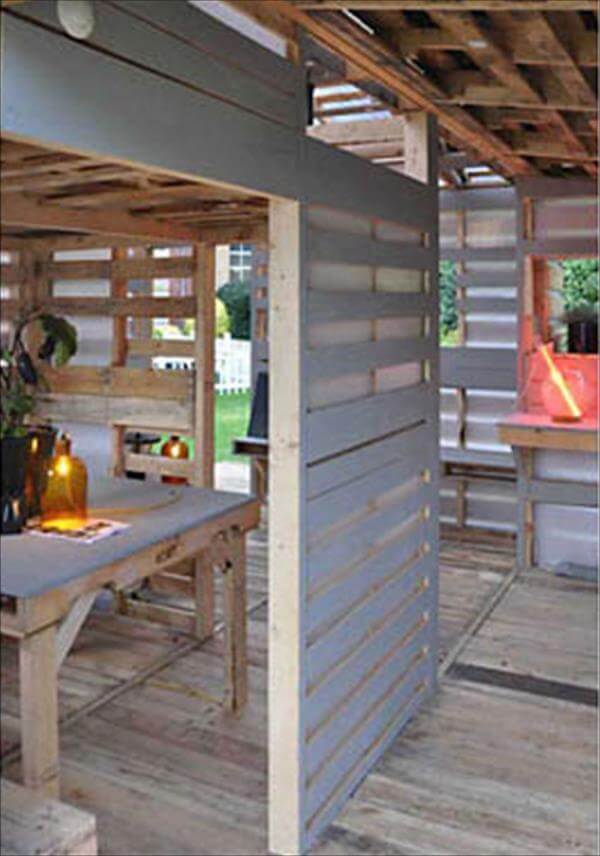 The whole wooden structure can surely go for a throughout sealant and wax and can also be modified to attain heat and cooling with electric or handmade appliances. But if you have the solution to access electricity it would be the most rocking idea to run home properly and modernly.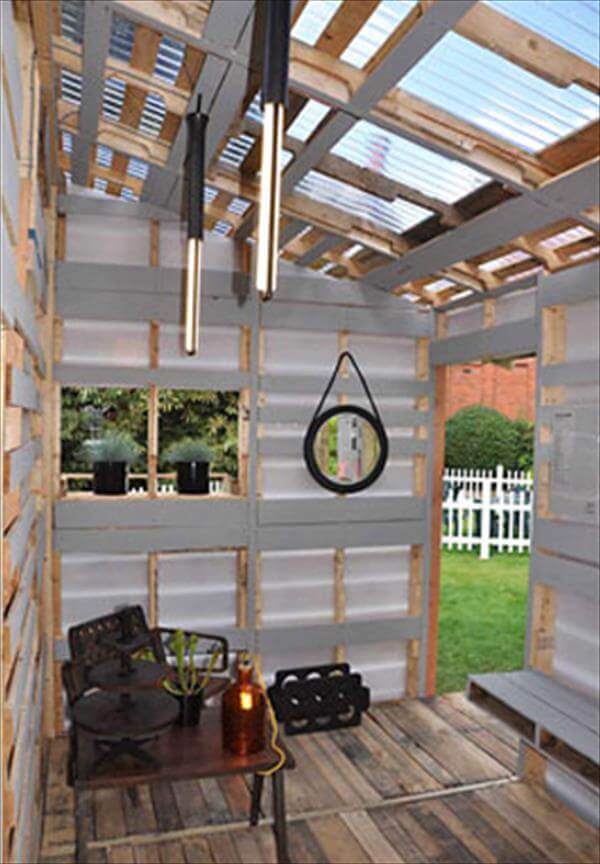 The whole carpentry technique used is very simple to every one who wants to try this idea for pallet shed at outdoor, the mounted bench on each pallet wall can remove the chairs need from home.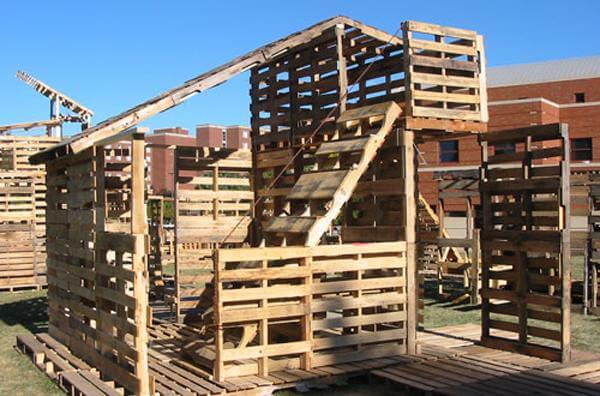 If you lack of instructions about the interior designing of this pallet house then have a close view to get chunks of tiny details, useful in makeover. The walls and double story junction through pallet stair, back and front room all are in early construction view to let you the structure criteria.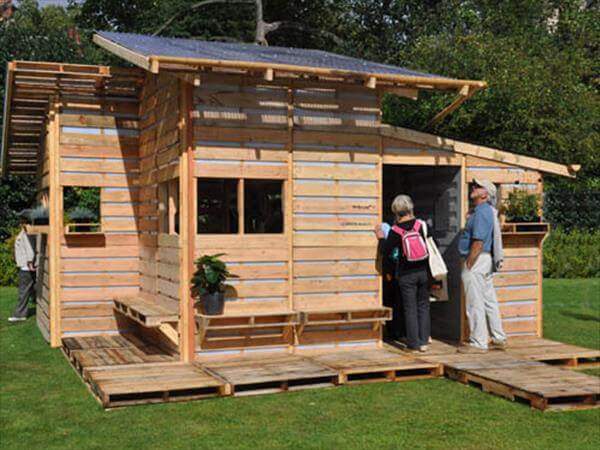 The whole wood have been got reddish varnished and stained. You can go for shade you like and which you think very suitable for weather effects. Add flower pots on specified places to get more than just a house.
This is the ultimate organized view of our DIY pallet house scheme. But this scheme is always ready for further modification related to layout or knickknacks.