Outdoor environment is refreshing for human nature. Everybody wants to enjoy nature in every leisure time after daily routines and hard tasks. But in summer season the severity and intensity of sunshine is unbearable. So we find it hard to be close to nature theme and scenery in summers. But if you have some shed that would be tremendous to go smarter to avail pure atmosphere and to be environment friendly. But most of us lack of money and can't reach to this DIY pallet shed luxury. So to make it accessible and affordable to every nature lover, we have made bypass through pallet wood to reach that deluxe and prime goal of pallet shed at outdoor. We have also attained other refreshing and healthy furniture experiences of life out of rustic and pallet wood recycling and reclaiming. We have now smashing DIY pallet dog houses, pallet kid's playhouses and many for garage needs and outdoor sitting plans like pallet bench and chair etc.
So to take start of DIY pallet shed we should be accomplishing with pallet wood in excess. Pallet wood is hardwood of oak tree and easily available in shipping form, otherwise oak wood is very expensive due to its stable durability and wood shine. You can check out the main sources of pallet wood to find it in access, like in surroundings of some building constructions, in your home surroundings, from some shipping companies or direct buy it from some DIY store with a very little bit of charge. So that was a little brief of pallet which we need in access to we will move forward to our DIY projects.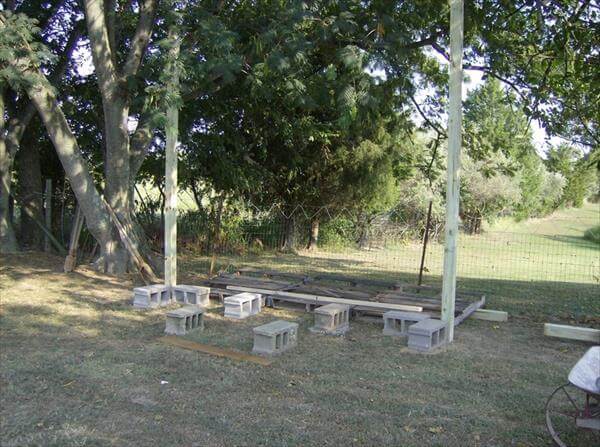 To have our model firm in position we have made a frame first which has legs about 3 feet deep in the ground and the dimensions of frame are 4×4's. We found it enough because mostly it is done with little measurement. We wanted to elevate our pallet shed a little bit up from the ground surface and that's why we have use concrete blocks that can be have in desired length and width dimensions.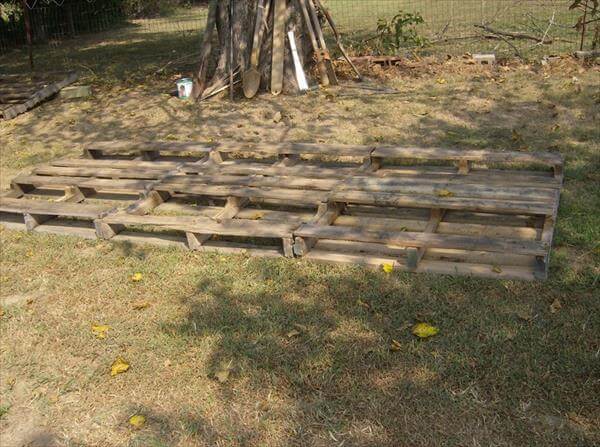 We have constructed walls of shed first by stacking pallet boards together with heavy grip of bolts and nuts. Made sure that your pallet is cavities free due to insects attack, if your find the tiny holes and knots in pallet board try to resolve with stucco and medium grit sand paper.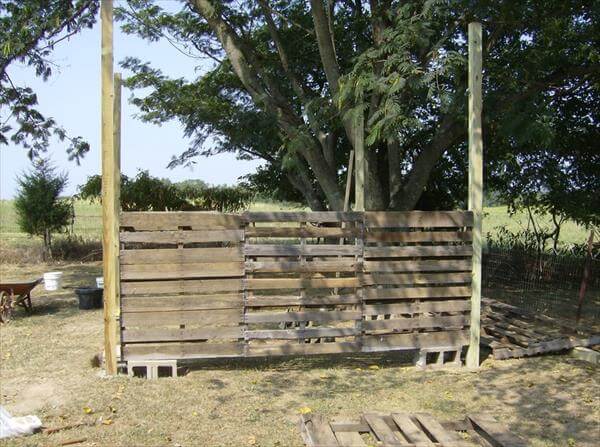 Now fix the targeted wall in the frame and on the concrete blocks to be little bit off the ground from water and insect effects. The fixing adjustments will be terrific if you will move with correct measurements of whole layout.
With same construction pattern build other side wills and repeat the adjustment process to fix them all perfectly and neatly gripped in the outer frame of pallet shed.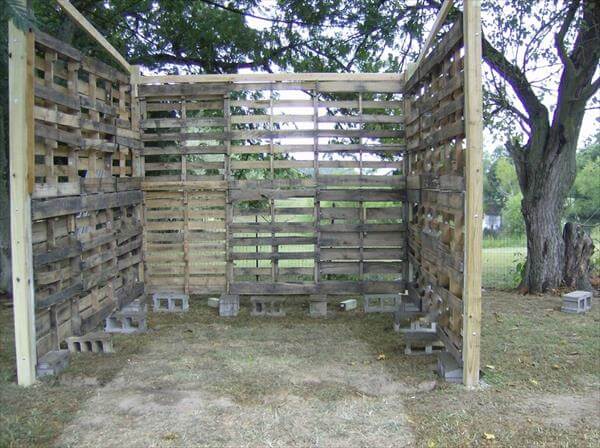 The two layers of pallet boards are required for each side wall. You can take help of your family members and friend for lifting up the wall to targeted area to fill up the frame and skeleton of our DIY outdoor pallet house.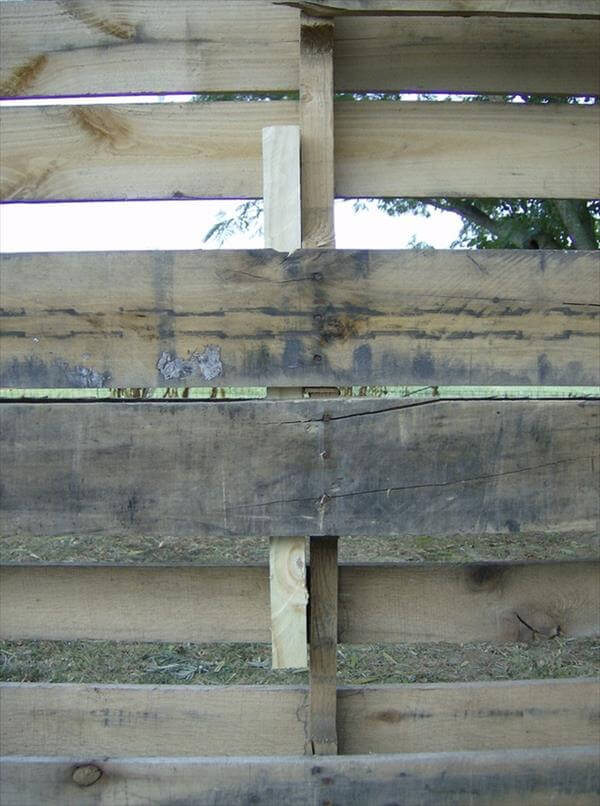 You can fix the upper layer to the lower one with some upward emerging edges of both upper and lower pallet layer planks and make them assembled with other layer with some cross headed heavy support bolt and make them tight with wrench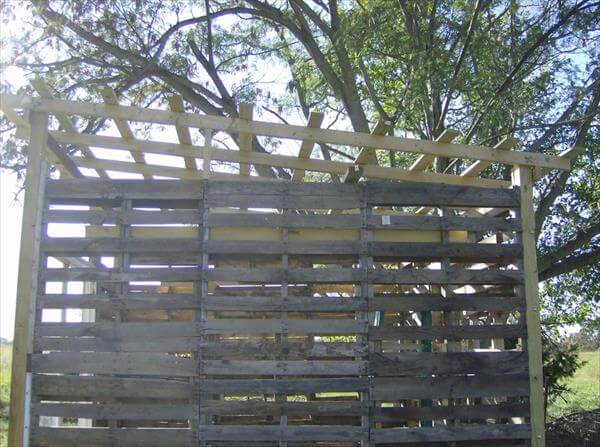 Now next is a little bit harder for an alone person because we are now going to secure the roof of the shed. The roof has been built in grid form in measured configuration to save time and wood. Fix the roof with precision in outer corners of the rim and make the roof fixed with steel brackets.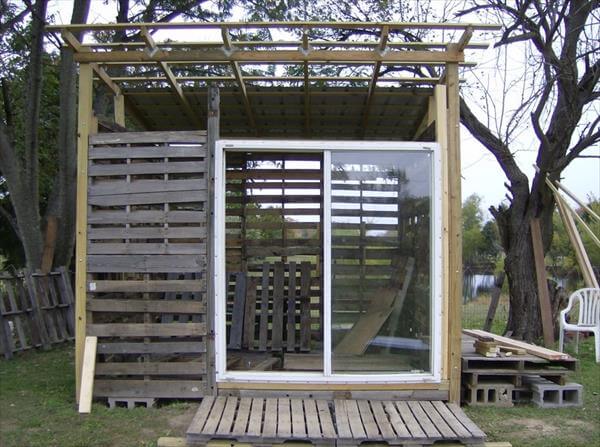 Now it's time design the front wall of the DIY pallet house. The whole model will get beauty and charm through it. So to make it lush and prime in view we have used a glass sliding door with perfect dimensions. This door will be insulated and firmed and glass frame work on our targeted house will be addition in charm.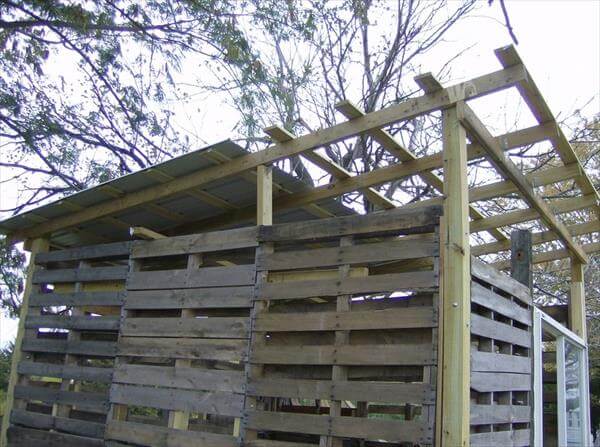 We have attached the metal sheet to the roof it will raise up the budget a little bit but will surely make our home water proof and water resistant. You can go with desired measurements but we have chosen 4×8 dimensions of metallic sheet.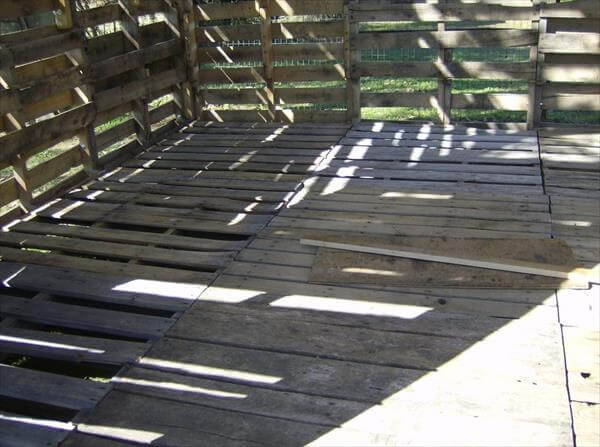 You can go in many tremendous and enchanting options for flooring of home; we have done this job also with cozy arrangement of pallet board. You can make it with concrete and with many other variations you see around.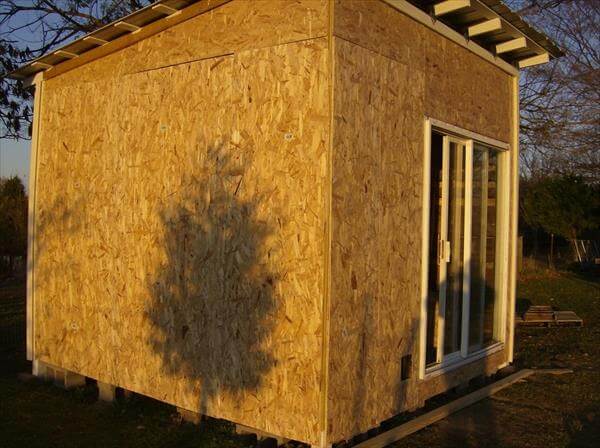 This step, to make the whole model water proof and weather resistant can have many options regard to budget and durability. You can make this coverage with metal sheet but we have selected the most frugal and economical option of OSB board to secure the whole skeleton.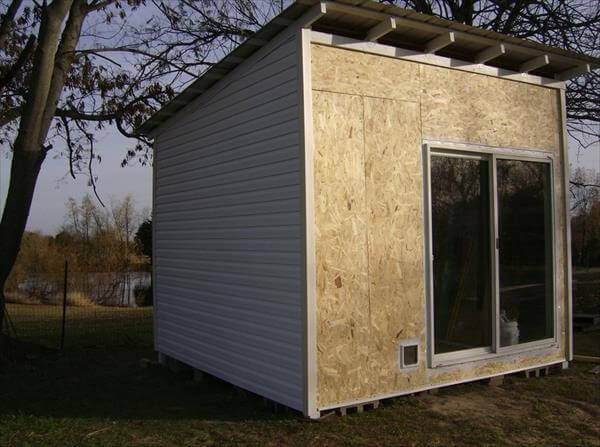 We have given the finish along with protection with Vinyl Siding on to the OSB board for marvelous and sublime impact to whole supreme and royal structure of DIY pallet storage shed. You can instructions about DIY pallet playhouses, dog's bed and houses, different cozy styles of pallet tables, chairs and bench too in our previous detailed tutorials.