As the weather has started to warm up people are heading to the outdoors to enjoy the beauty of the weather and the nature performing different fun activities in their yards, patios and the gardens. Someone likes to read the morning newspaper in the fresh outdoor ambiance and then there are those people who plan fun hangout nights and evening in the outdoors to have a blast with their family and friends.
So whatever is your outdoor entertainment plan you must have a comfort able and stylish seating environment there so that your fun ideas turn out to be hell fun. And furnishing of a big seating set in the outdoors can be really a budget disturbing step so we found for you to choose the pallets for the purpose as they can give you the luxury and stylish seating set for all your pallet outdoor furniture areas. And to show you some examples we have rounded up these DIY wood pallet outdoor sofa ideas all made from the recycled, sturdy and cost free pallets.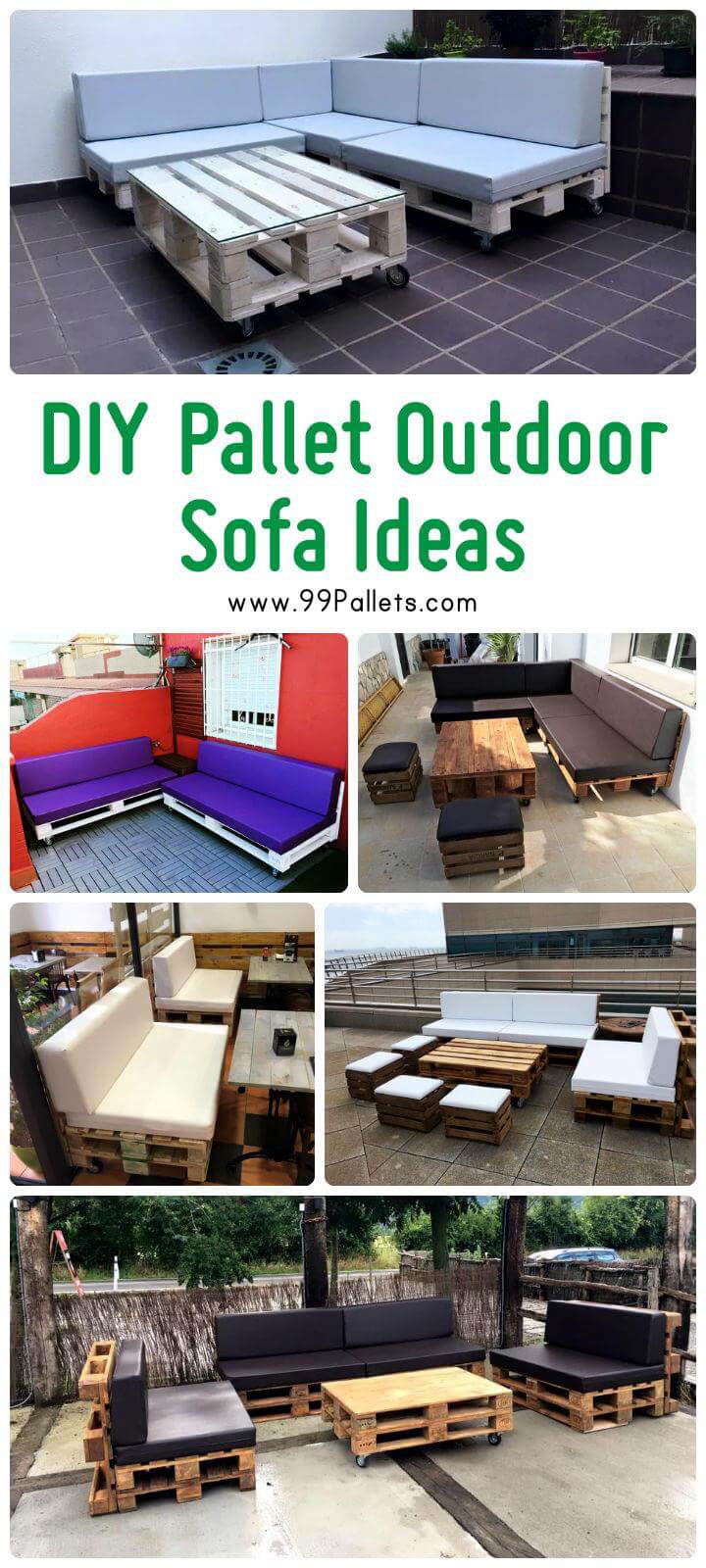 From pallet sofas, chairs, ottoman and pallet coffee table everything is there in these gorgeous seating sets so that you get accomplish seating plans for your outdoors. Just estimate the area of your outdoors and choose that sofa set which would finely adjust your spaces.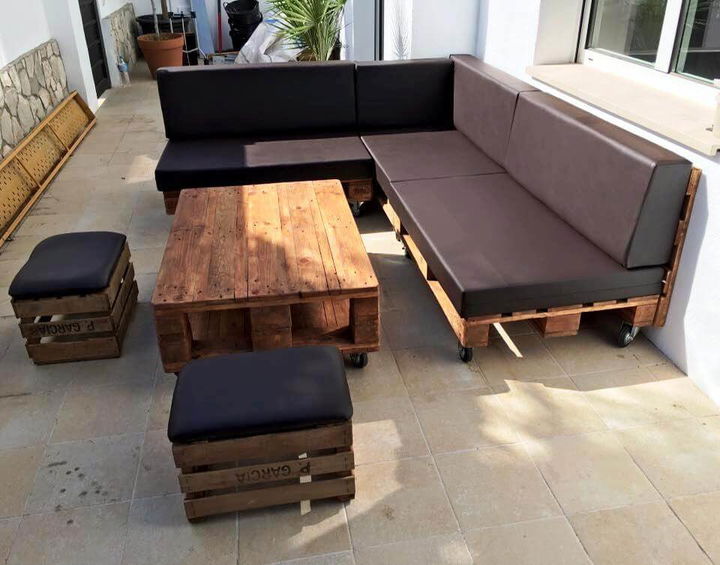 Make your outdoors your next fun spot to enjoy a happy hang out with your dear ones at any time if you would have this large size pallet seating set there with a big sectional sofa, coffee table and two ottomans for extra seating purpose.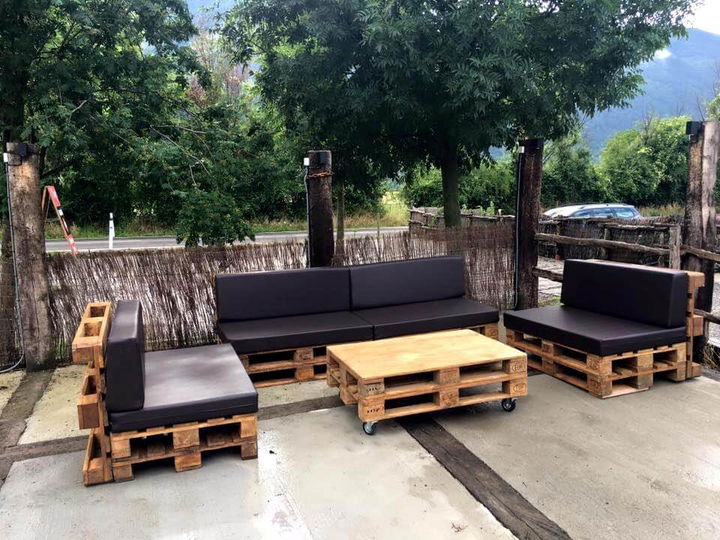 With pallets such a huge and sturdy seating plan is really easy to build as you can use the full pallets in layers to shape up the sofa seats and the same pallets serving as the backrests too with black mattress to create a more tempting look.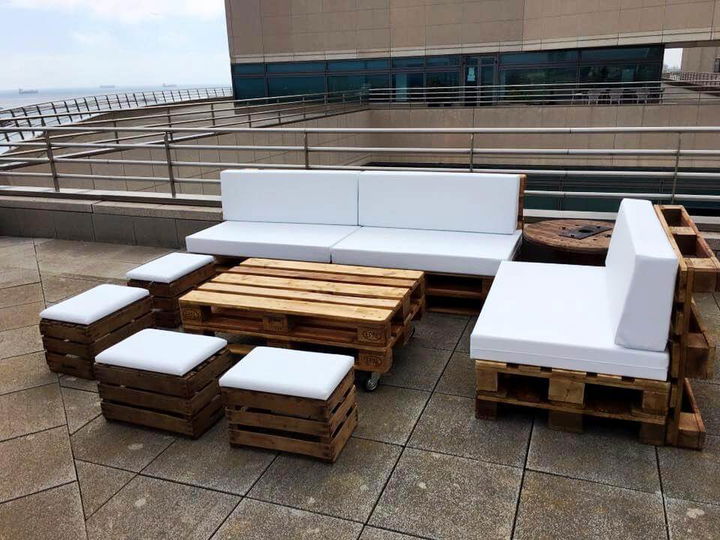 This stylish, sturdy and efficient seating set from pallets is just an apt place for a family to spend some quality time together with sofas and chairs for the elders and cute little ottomans for the kids and coffee table to hold drinks and snacks. Top 104 Unique DIY Pallet Sofa Ideas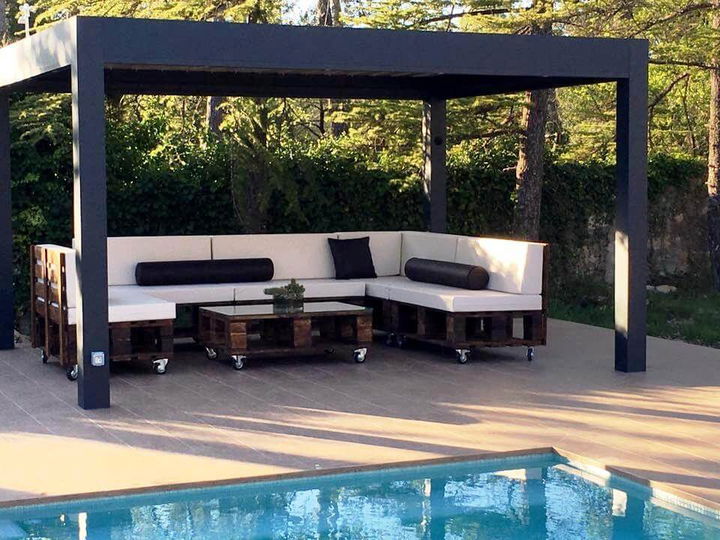 This pool side area has been gorgeously furnished with a pallet made seating set having a ravishing U shape large size sectional sofa and a coffee table in the center with wheels and white mattress to add more to its up to date look.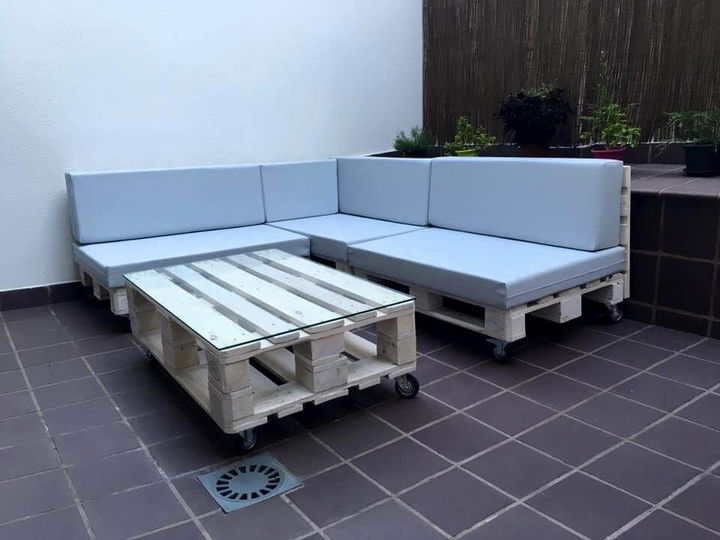 No matter either you have big outdoor spaces or the small area of patio or deck the pallets are sure to furnish each and every one with suitable seating sets like this one with a single sectional sofa and coffee table with a glass top and wheels to look modern in style.
The outdoors of the house also include the balconies and the terrace spaces and pallets are quite capable to serve even these spaces with such marvelous seating sofas having been stained in white, set on wheels and provided with blue mattress to look truly trendy.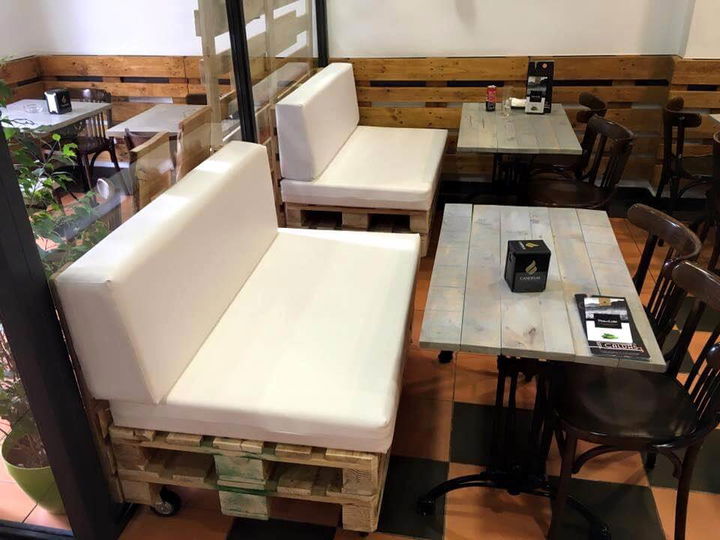 Not only the outdoors but even if you are running a restaurant space you can create a stylish and attractive range of pallet furniture for this space as here is shown the bistro style pallet sofas and coffee tables with metal stand so that you can enjoy a fusion of rusticity and modernity.
Made by: Muebles con palets