Garden is now trend and is makes you so close to nature delights which are always relishing.  Seating is always a amusing experience in garden and it demands very well synchronized and aesthetic furniture to be comfortable in trends. We have done a cool pallet picnic table of which gives us very honest and dutiful components of DIY pallet patio furniture which accent the whole garden. We have handcrafted the home timber scrap and pallets to get this fun relief for seating.
The recycling of pallet and timber scrape cam up with much gracious layouts of DIY pallet garden benches and picnic table which carries a lot to be entertained in the garden. We have mix up vibrant paint shade to get the rustic pallets in handsome appearance. Top of DIY pallet picnic table and berths of the DIY pallet benches have purely been salvaged from timber pallet wood. You will find it much utilitarian and serviceable while having a eating and drinking plan in the garden.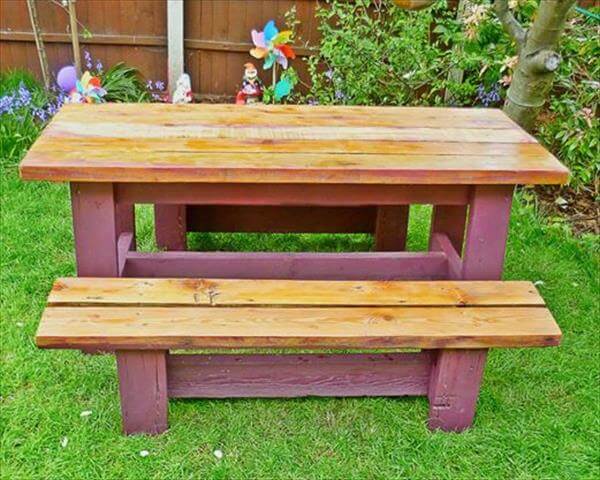 Wood has been treated in such a way that it is back to beauty with same rustic and antique history on it. Wooden imperfections are still there as they were. Make the wood clean before getting indulge into the construction mania.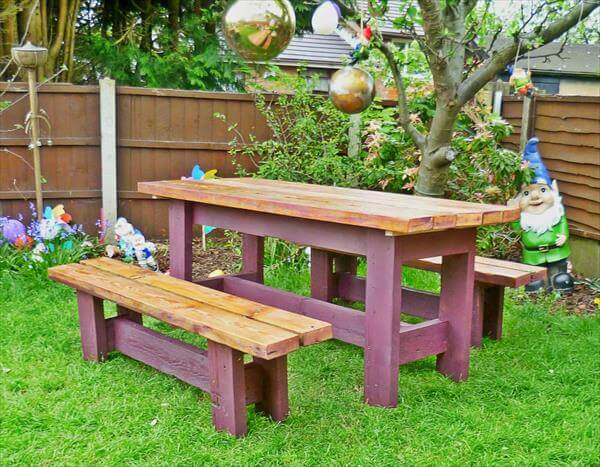 Soapy water or scrubbing of wood with bleach can make you get with a new looking old wood. We have made the wood splinter free through sanding with hand rubbing. You can play with this rustic wood nature in plenty of ways paint is the first one step that you can try to change it into attractive mode.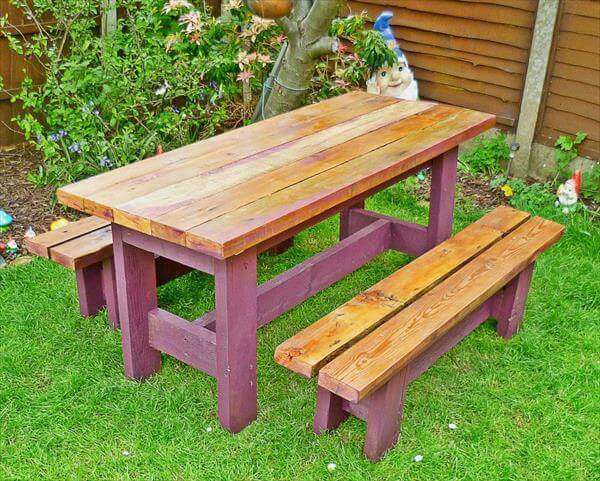 Make the wood stained for its long life and to retain the wooden integrity make it sealed which you find popular in the market. Make it sealed with gloss lacquer to get that wooden crystal clearance.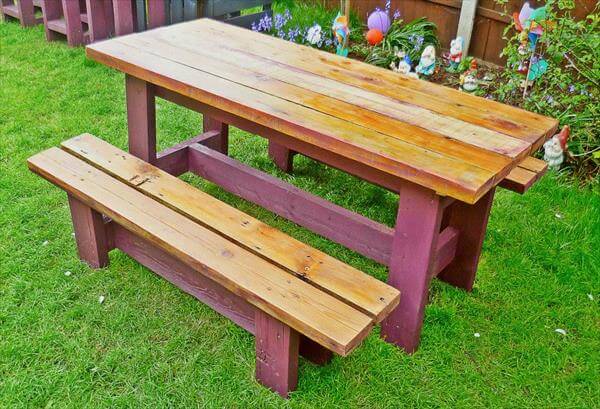 Make it positioned on the green garden carpet and let the fun start! You can enjoy your coffee or breakfast on this pallet furniture, your children will also find it much entertaining for fun and playing while being in the garden. There is no heavy use of money in this furniture plan, find pallet wood which is easy to find and is much accessible to get all this free of cost to accent your garden.