Here we will throw some light on some highly creative type of wood recycling that is just sure to make you obsessed. Pallet wood and old wire spools have been treated here in a much nice way to give these outstanding styles of these DIY pallet outdoor loungers that are just made to entertain and inspire. If you position these DIY pallet outdoor lounge chairs to any of your outdoor areas like garden, deck, poolside or even the patio then you would like to spend more of your time at any of these places.
The design comes up with long relaxing berth section, amusing spool wheels cut armrests and an entertaining backrest. The front portions stands on two sturdy legs that can be differed in color to give the entire design a more attractive appeal. Enjoy your summer afternoons at poolside by sitting or lying comfortably on these handmade loungers. Do copy this amazing style of DIY pallet patio furniture to fulfill the sitting demands there in thrifty way!!!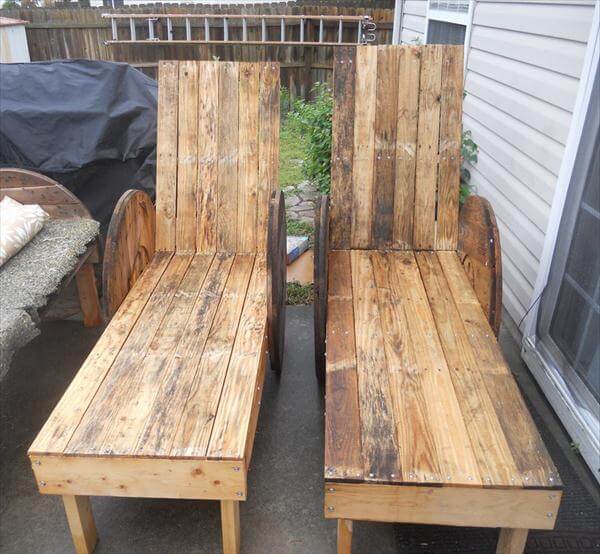 For a dominant wood expression, the entire wood has been passed through a complete sanding process to allow smooth touch and shine on the wood grains, you can do this simply using ordinary sandpaper with any medium and high grit.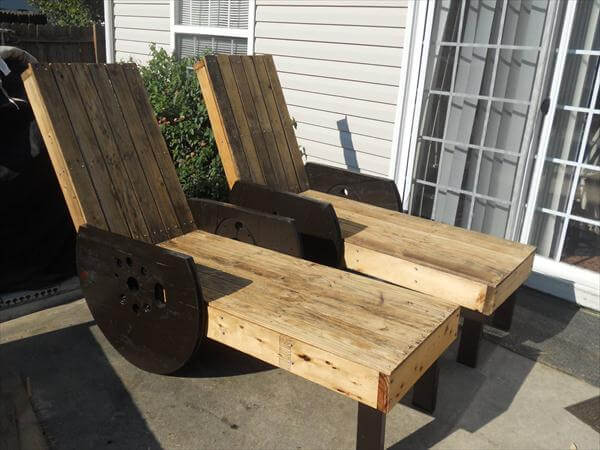 For a dual toned appeal, the rear spool wheels and front legs have been stained in dark while the resting design looks much arresting too in natural bright wood appeal!!
Amazing DIY pallet project and outstanding piece of work to get dashing styled and super comfortable sitting furniture with pallets for outdoor sitting, relaxing, book reading and daydreaming!!!