Pallet wood is really a life changing wood for people who are short in budgets. Pallet wood can be used for various sophisticated types of pallet furniture which can be compared to that of industrial furniture. These 15 DIY pallet furniture ideas will make you better understand that how the shipping pallets can be conceptualized into some subtle furniture demonstrations. These shipping skids are mostly thought a pile of rubbish and have no further use after getting retired from the ships. But after taking a view of these DIY pallet ideas, you can go for great interior and exterior home improvements by making the relevant furniture with your own hands by reclaiming the pallet wood.
Pallet wood is just convertible to any type of furniture you want whether its office desk, coffee table or a bed frame. We have chosen some very popular behaviors of pallet wood that make bigger statements and compliment greatly the home functionality and decors as well.
We can bet you that you will love the pallet wood after viewing all these swank uses of pallet wood. More special thing about all these ideas is that they are all economically suitable and take good care of your hardly earned money. Most of types of these 25 pallet furniture projects are just free of cost, you just need to have a good supply of pallet wood for all these stunning inspirations which will truly make bigger changes to any living space.
Pallet Bed:
Bed is the most extensive ingredient of home furniture and has higher industrial prices which are just untouchable for a man with average income. If you really want a big sized and sturdy platform bed then pallet wood will be a great choice.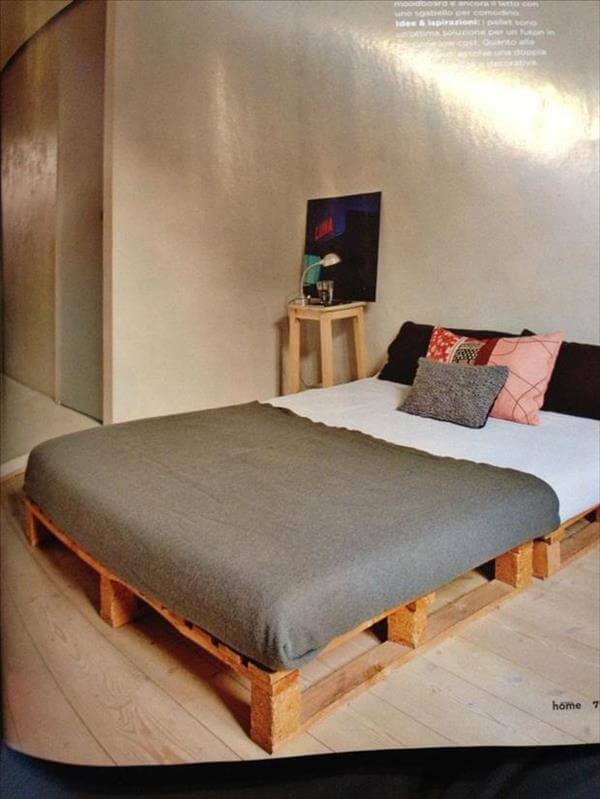 Pallet Daybed:
Pallet wood comes in rectangular board form which provides a great fill to the sectional areas. Simply make them tiered to have a raised wooden frame and then provide it the cushion and you are done to have a perfect daybed, sofa or bed with some simple and quick steps.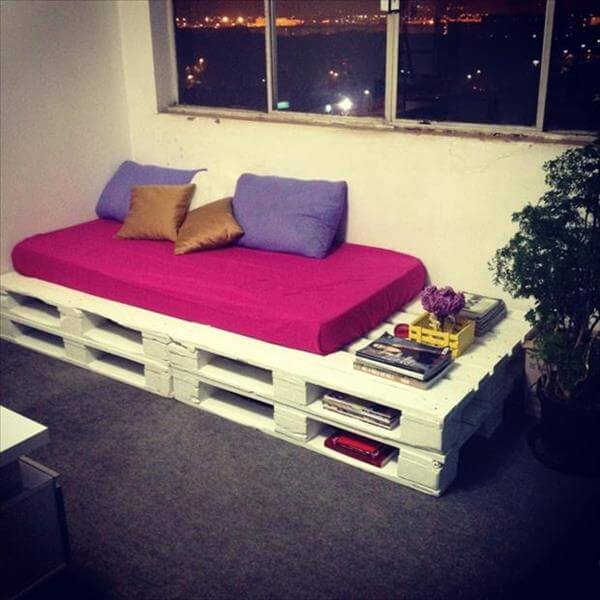 Pallet Bookshelf:
Books are a great treasure of knowledge and can be found in every home. Books are also a great companion in leisure time. But how to keep them stored well in home? If you want a free of cost solution to secure your books then this DIY pallet shelf will be a great choice.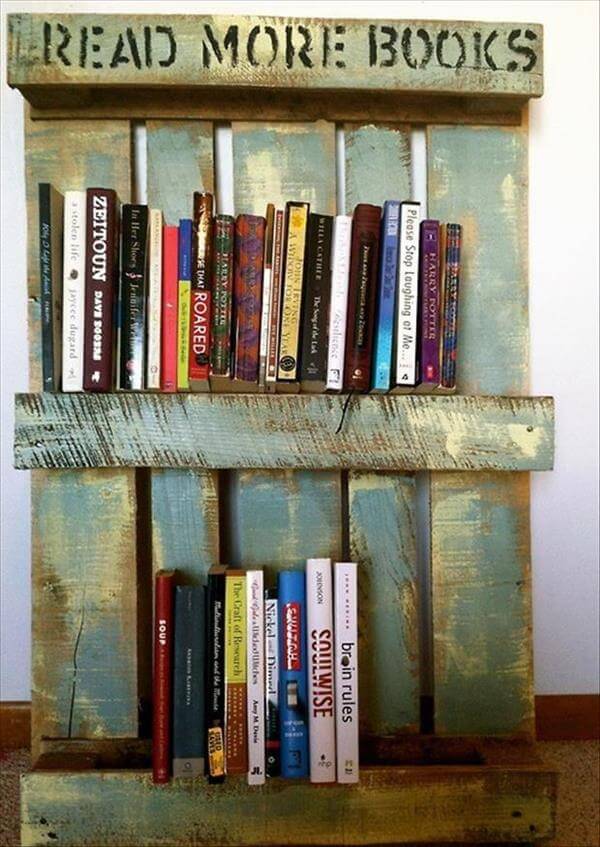 Pallet Coffee Table:
Another great type of furniture in which the pallet wood can provide a great help is the coffee table. Make you sitting dignified with this cheapest but sturdy type of handmade pallet coffee table with a nice patterned glass top.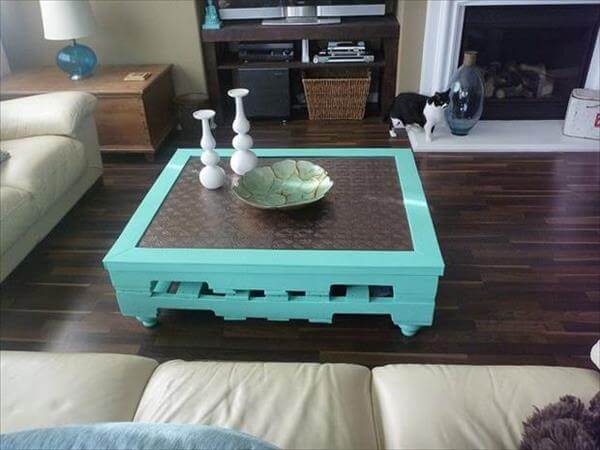 Pallet Computer Desk:
Pallet wood has just great criteria of its swank uses and go for remodeling of working places and offices too. Copy this adored pallet computer desk idea for office working. Simply organized some shipping pallet skids to provide a table shape and finished them with a glass top for an industrial chic look and you are done!!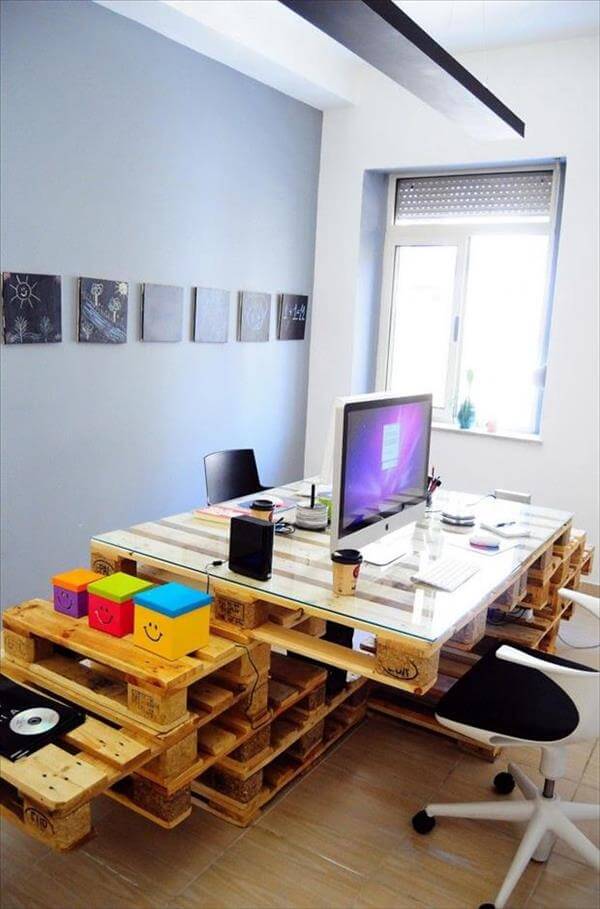 Pallet Swing:
Swinging is a great experience and is also a very good solution to be tension free. Use a equal and smooth edged pallet board with some heavy duty rope support to have a very sturdy pallet swing setup at you home front porch or in your garden.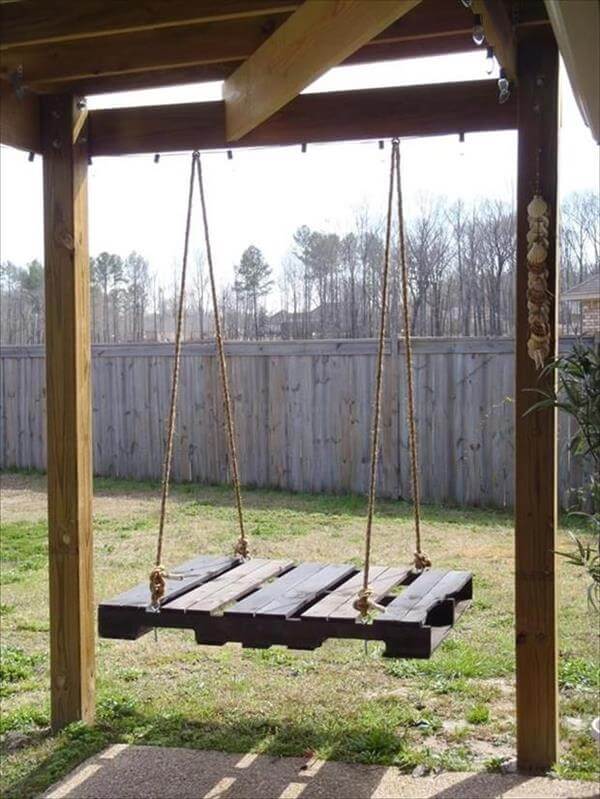 Pallet Storage Shelf:
 Home blank wall areas can be given a great shelving fill using pallet wood. Get the decors or utility purposes from such a rustic pallet shelf patterns. Simply sanded a pallet board lightly and make it floated on wall with some according hardware hanging system and get great home wall accent pieces.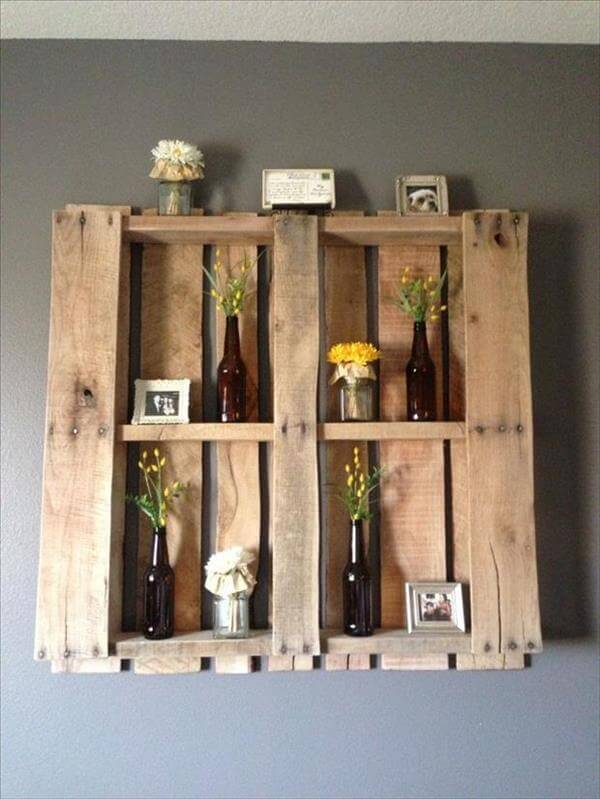 Pallet Sectional Sofa:
A living room will just look like a barren land if it is missing the couch or sofa for sitting. Avoid that unaffordable industrial designs choose your own design with clever use of space through pallet wood. This sectional layout of pallet sofa has entirely modified the living room and has been raised on wheels to be pulled or dragged by single person only.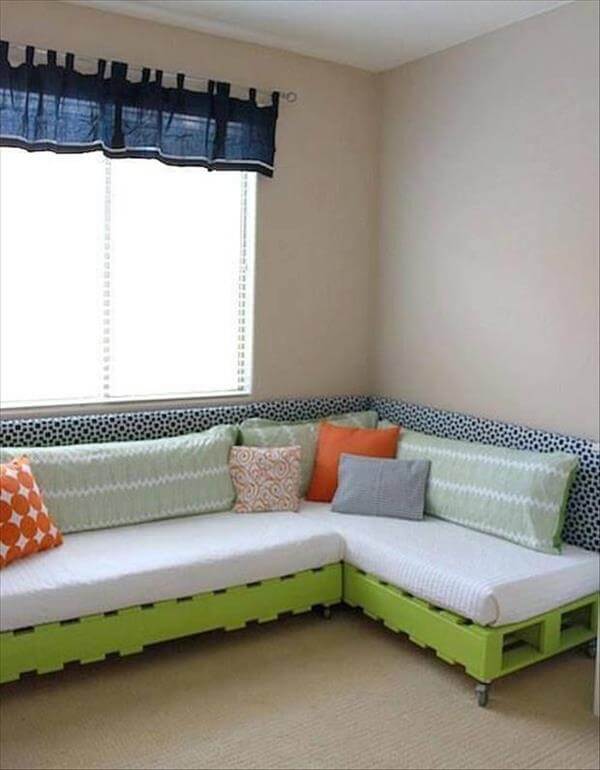 Pallet Shower:
Reestablish your outdoor space which is just going down. Pallet wood can make great improvements for some vibrant looks of home outdoor just like this pallet shower area. All around rustic boundary not only limits the shower area but also a great use of worn pallets to accent the home exterior.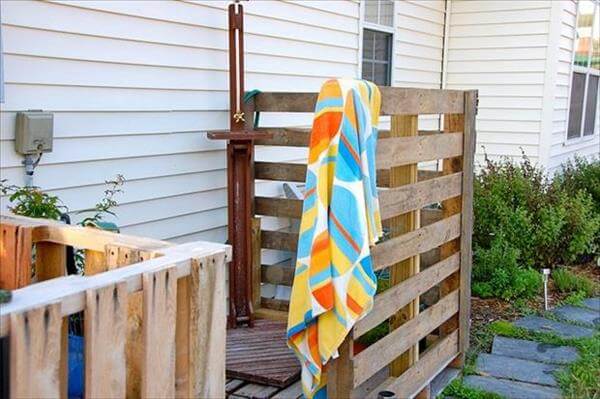 Pallet Outdoor Garden Shelf:
If you have a nice and visually attractive garden space then it will make some bigger statements of your home decors. Simply clean a rustic pallet skid and give it some wooden brightness through sanding and enjoy a great pallet shelving to organize the garden flower pots on it. Such an swank uses of freely available pallets can make you get with a nice garden area.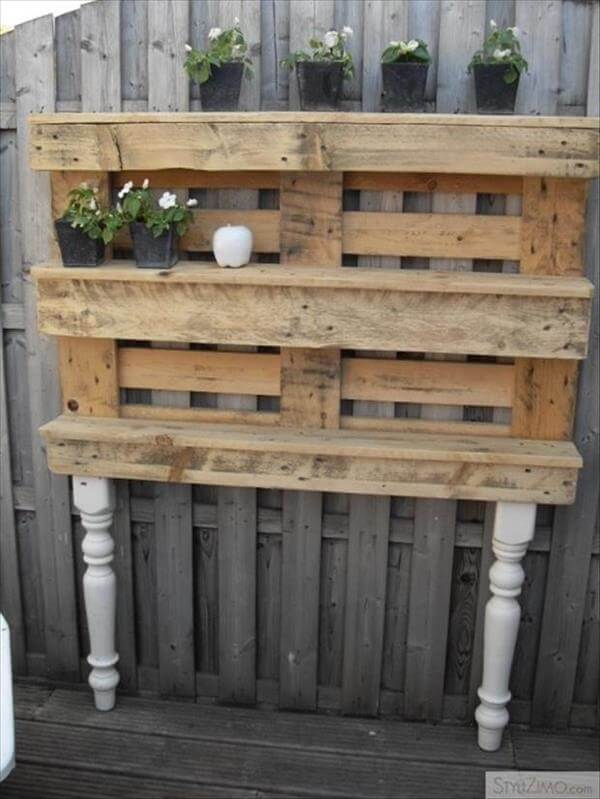 Outdoor Pallet Furniture Set:
Add fun to your winter nights by reclaiming the pallet wood into this friendly sitting plan around an fire pit. Enjoy great sitting with lots of gossips and conversation under the moon and stars at night. Such an benches and sofa model can also go for great interior use if you make them simply padded or upholstered through mattress or cushion.
Pallet Nightstand:
This rustic stand with multiple drawers has also been reclaimed out of pallet wood and can make you get with various serviceable purposes. Use it as a nightstand, end table and sofa side table it will rock in all these situations. Recycle the pallet wood in any of these unique plans to keep them using for a long time.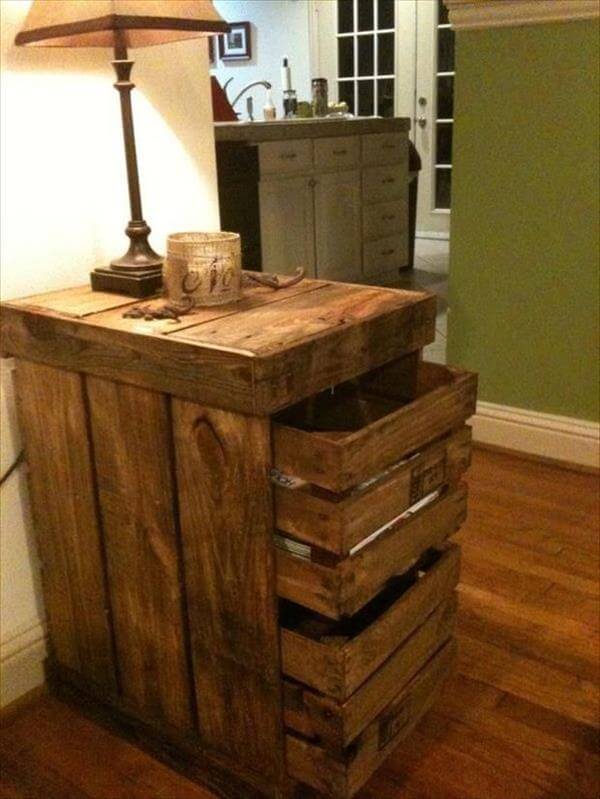 Pallet Kitchen Island Table:
Kitchen island table is great server of food and also facilitate the storage utilities with underneath cabinets, drawers or sometime shelves. Some rustic and weathered pallet skids make us get with this kitchen table furniture idea at no-cost budget.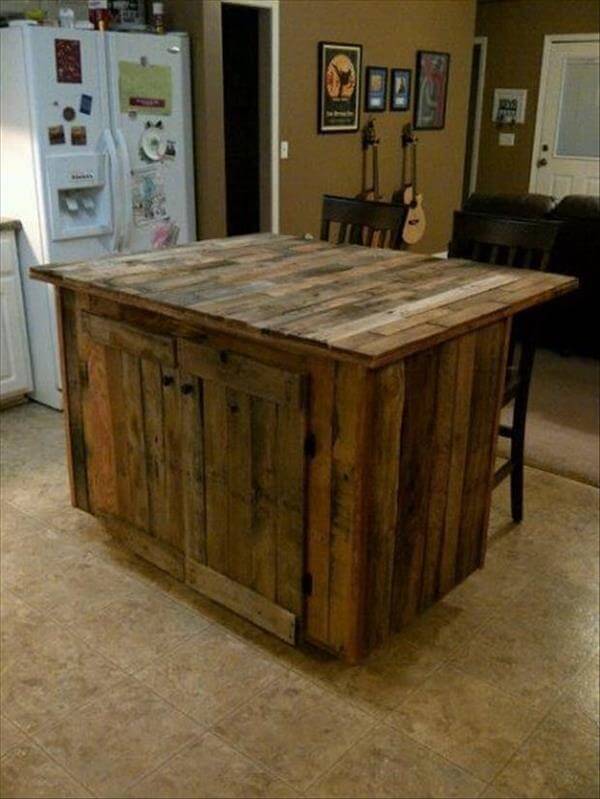 Pallet Garden:
Pallets which are chemically treated can be used in such a DIY pallet garden shapes simple make some shelves and mantels with closed bottom space and them fill them with potting soil to have a categorized unit for your favorite one flower types. Grow you herbs and some plants which are hard to find with the help of pallet wood just like this chic inspiration of wooden garden.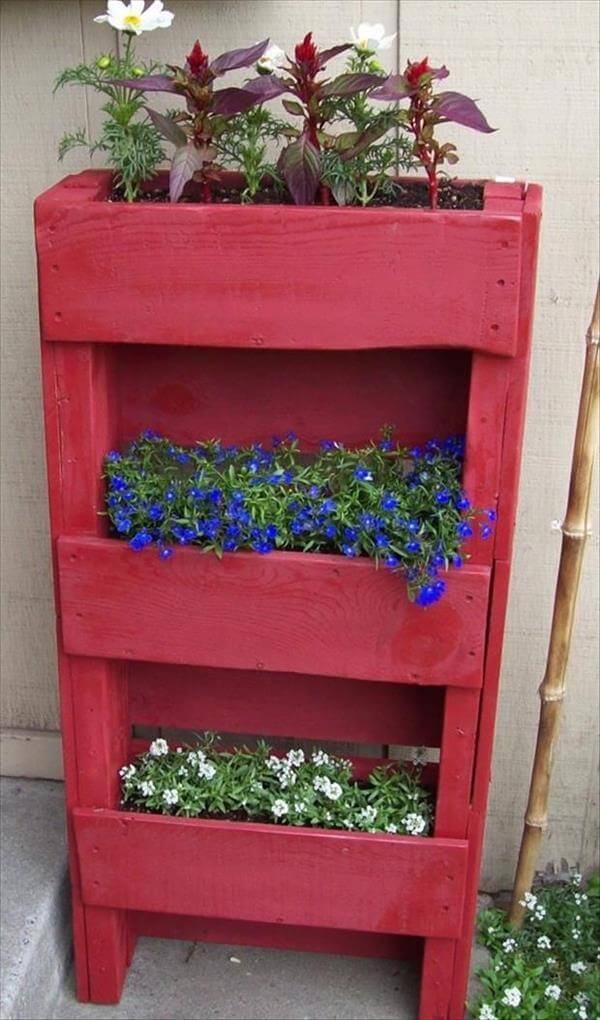 Pallet Entryway Desk:
Install the pallet with vertical alignment at your main access point and enjoy a chic accent entry table for home embellishment and decorations. It will make the very first impressions to anyone whole is getting access to your home. Copy this dearest and cheapest pallet motivation and enjoy great home entry.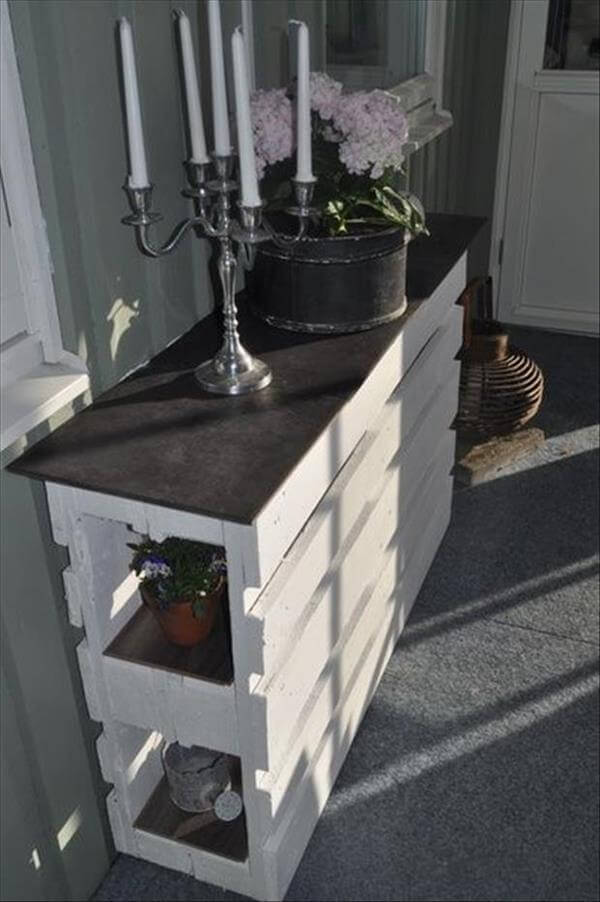 Pallet wood can truly change the life of a common man by providing him the cozy furniture on a budget. Get access to pallet wood and make you home stand out with such a subtle and spellbinding uses of pallets. All these chic types of DIY pallet furniture plans can add vibrancy and elegance to any living space without any overflow of money.