When we talk about the bedroom concerns and components then we also count for the headboard which makes the bedroom to look like completed and aesthetic. Here we have gone for a much economical way to get a DIY pallet curved headboard by using some shipping pallet skids. We were just looking for some uniqueness in our headboard design and an idea for this beautiful and artful curved cut out came to our mind and we have done the whole DIY pallet headboard tutorial according to it.
We had a little bed frame for sleeping of one person only so we took the dimensions according to our bed layout. We have got it chalk painted with hands then make it distressed from the edges to have an antique sensation. You can also find some crumbled pallet wood in the surroundings to copy this great piece of recycled pallet furniture on a very low amount of budget which is just equal to zero.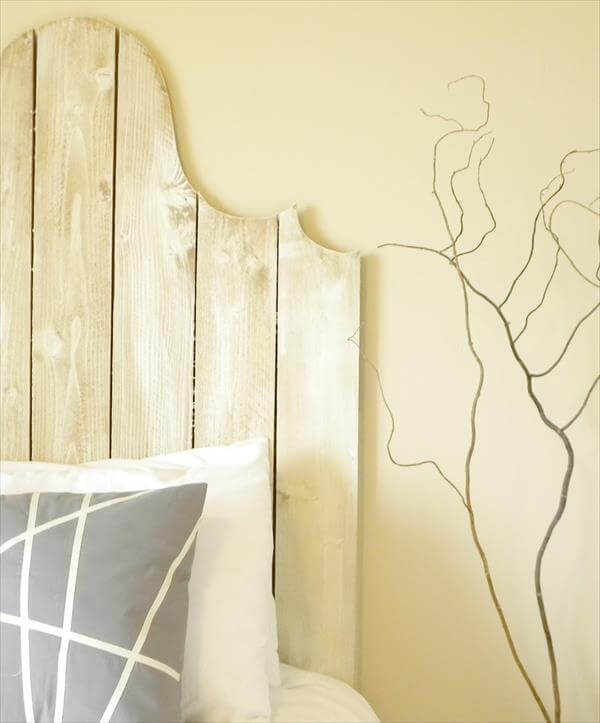 Supplies:
Electrical Sander
Pry bar
Claw Hammer
Jigsaw
Nail Gun
Glue
Water Base Chalk
Paper Sheet
Pencil
Scissor
Measuring Tape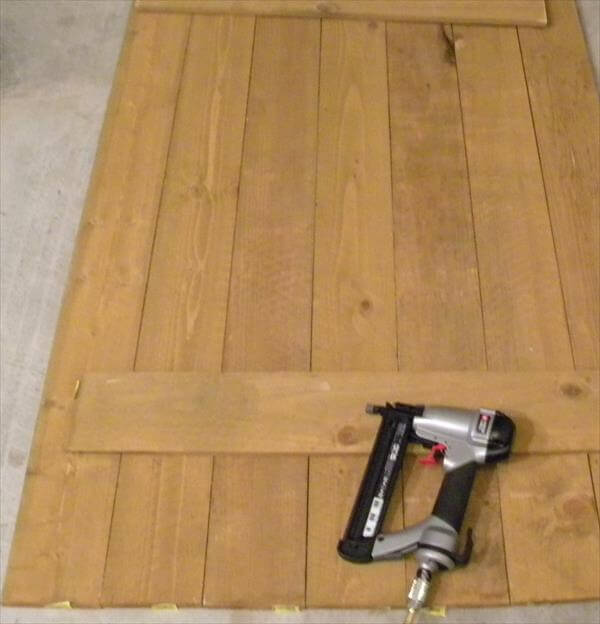 First we separated the pallet boards into individual lengths and sorted out a rustic pile of them. Then we select some equally thick planks and prepared a big one rectangular board out of them.
We floored the individual pallet pieces and then add the back support to hold the whole board stable this has been done by adding the nails with nail gun.
Then we traced out a chic curved style on a paper with permanent marker to be on the top of our headboard and cut it out with scissor. We placed this traced out paper on our previously prepared wooden board and outlined the same design. By using the jigsaw cut the wood from traced out and outlined wooden area to get the perfect and visually captivating curved style for our headboard.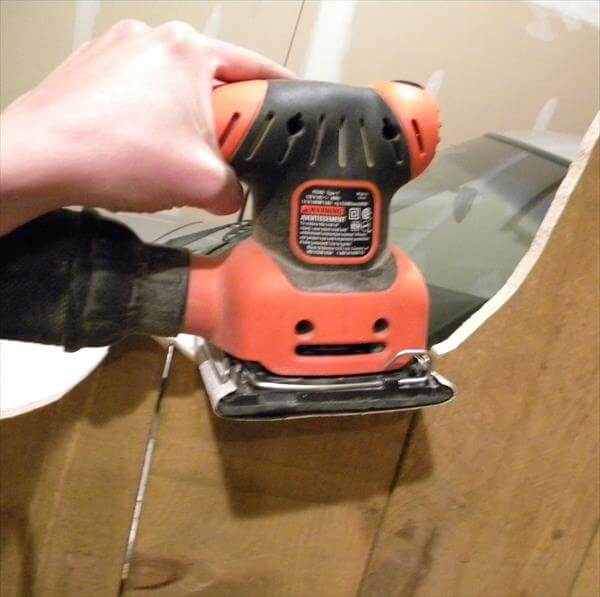 To trim the excess of edges we used the electrical sander and it really provided us the final results we wanted. Sand the all sides until there comes the smooth touch of the wood.
Wooden dings and imperfection are still there on the wood which make a very unexampled wooden history which creates a much spellbinding rustic and vintage environment which we love all.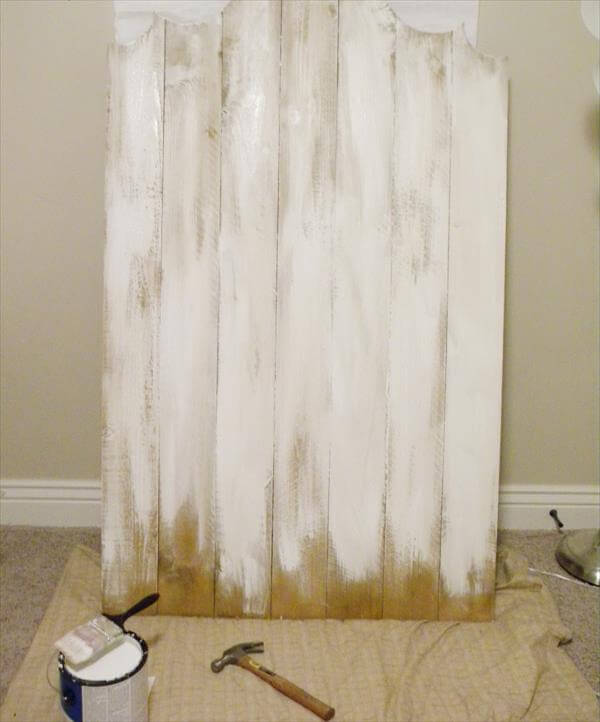 For a distressed and shabby chic look we have got it white chalk painted and it really dignified it to a great extent. For this step you can go with your own unique style of paint which your creative mind will think suitable and appropriate.
To go with stain coating will also be a great choice to make the wood lasting and strengthened. It will also give a perfect shade to wood to make it upgraded on modern sculpts.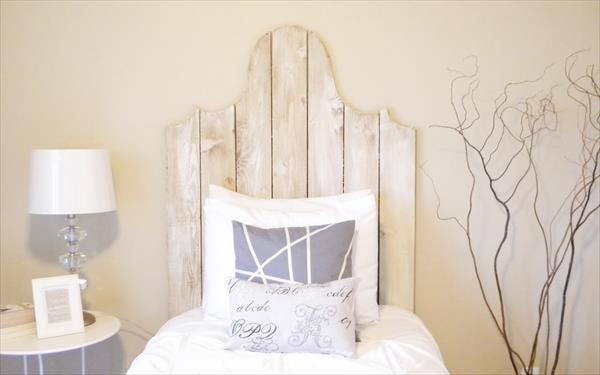 After getting it finished in our desired view we combined it with our bed frame through nuts and bolts at the bottom and it really garnished our bed in much knockout and tempting way.
You just need to have some shipping pallets which are the main supply material for such an nice wooden addition to home at no-cost.
Dignify your bed too by making a copy of this pallet headboard project which can be done very beautifully by an untrained person. Try it out in your leisure time and make great compliment to your bedroom.