A garden is the green natural area at outdoor of your home where we always like to spend most of our spare time. Natural green atmosphere and hypnotic colored nature of flowers always hold our attention. This green carpeted area of your home also demands to take good care of it to keeping enjoying the natural scenery of flowers and plants. We are here with amazing budget-friendly plans to make your garden space more visually attractive and pleasing to eyes. Check out these DIY pallet planter ideas that are too cute and awesome to bound anyone under their natural spell.
By doing some DIY pallet garden improving projects you can made every nook and cranny of your garden stand out for sure. These DIY pallet vertical gardens and planters can be positioned in your garden in so many different ways, place them vertically against any wall, or make them vertically erected in mid of your garden space with some backside support or simply mount them on garden walls for amazing DIY pallet wall hanging planter out of them.
Red Painted Pallet Vertical Garden Planter:
Pallet can take part in garden grooming and renovation in so many different ways as you can make pallet garden planters, potting benches, walkways and can also go for pallet fencing of your garden, and you will all these amazing improvement free of cost!!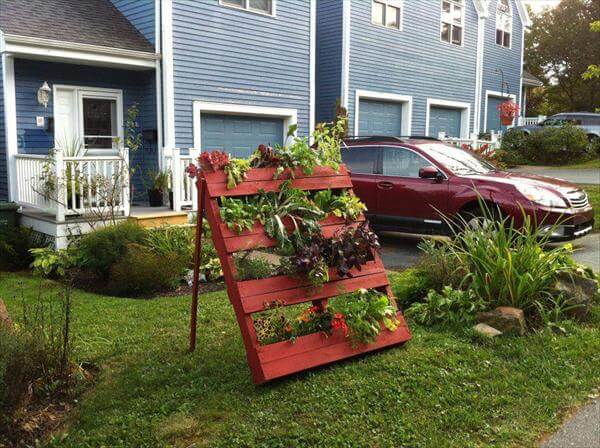 Pallet and Plastic Basket Planter:
Use the pallets as they are with some metal holding plans to support you pots or plastic planters, such an created planter will compliment great to your garden decors and will also be a way to look your garden unique and different than the ordinary trends of gardening!!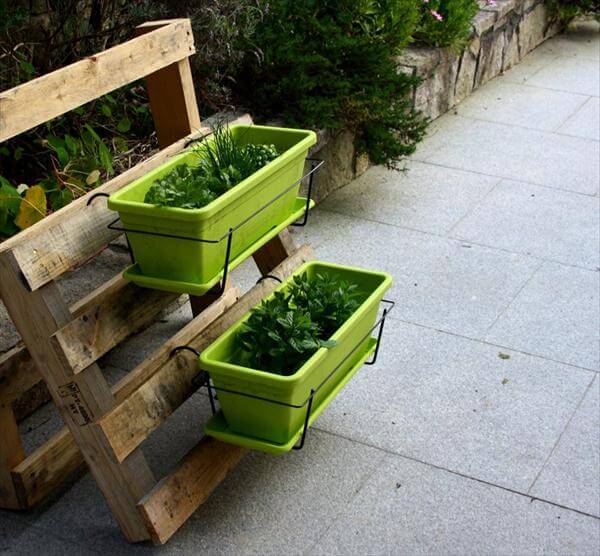 Pallet Garden Potting Bench + Planter:
This dual purpose pallet potting bench is really eye-catching, comes with flat top and with one vertical side as flower planter. Really a unique and out of ordinary use of pallet wood recycling to get your garden functional and beautified at the same time!!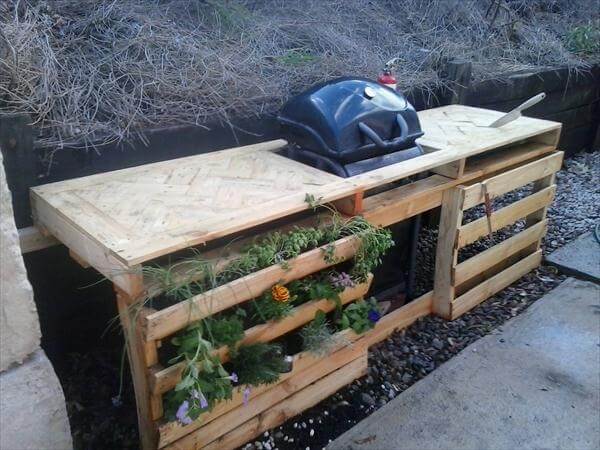 Accent Pallet Garden Potting Wall:
Pallets are always much doable and feasible in nature to go for amazing plans of shelving and racking, this amazing pallet garden wall has creatively been planned to offer some potting shelves to give a fetching display to your garden pots and vases. Do add this DIY pallet project in your garden and it will be a pleasing center of attention there for sure!!!
DIY: How to Make a Pallet Herb Planter
Vertical Pallet Flower Planter:
Put the fabric sheet to behind the pallet board and make it enable to hold the potting soil, sow seeds of your favorite herbs and flowers and enjoy magnetizing vertical wooden display of them that will remarkably work as a centerpiece in your entire garden ambiance!!
Using Pallets for a Garden – Pallet Vertical Planter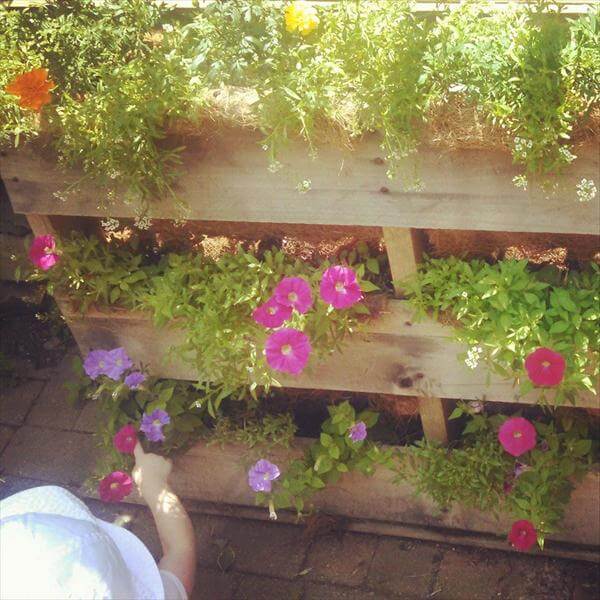 Pallet Wall Hanging Garden Planters:
Pallet planter comes with great choice to position them for better display and for galvanic statements of garden decors. This wall hanging ideas is really amazing and ranks at the top to make your garden captivating and stunning. Go with your master mind to create more dramatic statements of your garden with pallets!!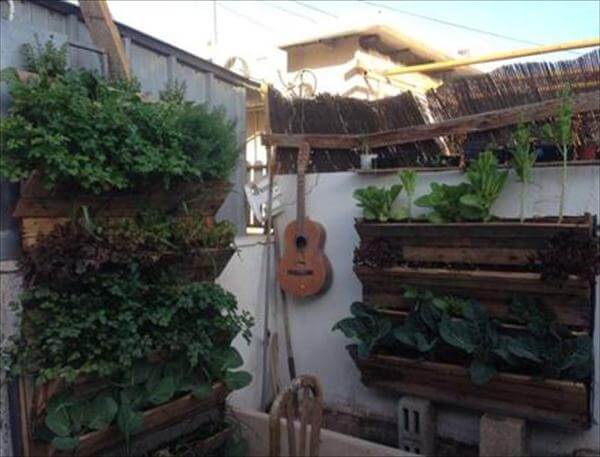 These garden planter will also work great for people living in narrow and minimal spaced residences to enjoy the natural green feel of garden. These planters are movable so one can position to either side or location of his home for natural garnishing of that targeted area on a budget!!
These planters and garden walls not only improve the display and functionality of your garden but also a very nice way to keep using the wood for a long long time. There are numerous more DIY pallet garden ideas to organize your green area using wood.