We mostly go for interior wall paneling for decorative purposes. Wood medium is just considered best for wall paneling as it makes the room isolated too. If you want to have rustic or mid century inspired wooden look of your interior walls on a budget then it would be better to select the pallets to refinish you interior walls decoratively. We are here with some sample DIY pallet wood wall paneling ideas that also lead to build your own wooden walls in your master bedrooms.
Just get a big pile of individual planks separated from lots of pallet boards. Install them on wall using nail gun and glue and keep on fixing them like a puzzle game until you get the targeted areas covered with wooden boards. You can do this DIY pallet wall paneling projects in you kitchens, bathrooms, living room or even in master bedroom for gorgeous wood appeal and texture.
In case of master bedroom, once you have a wood wall panel background, you don't need the headboard then, create different shelving units in these DIY pallet wood walls to arrange your picture or mural frames or other items of decors and interest!!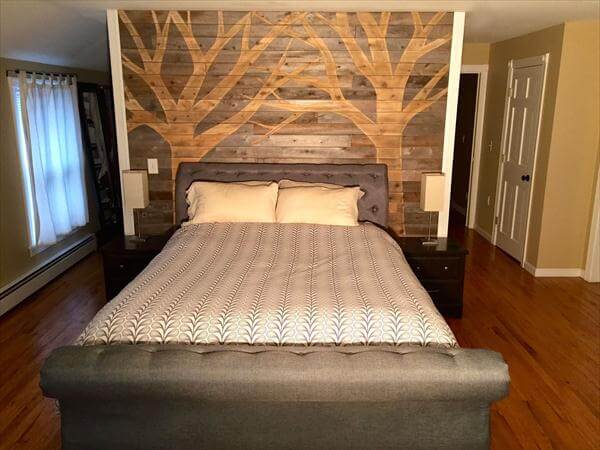 Tale a look on this inspiring master bedroom wall that only serves as a DIY pallet headboard but also as a separation between to consecutive bedroom frames. This accent wall replicate the old tree art that can hold anyone's attention for a long while!!
This is another rustic yet nice scheme of pallet bedroom accent wall, comes with hanging hooks to hang up the mural frames and two visually attractive mantles to hold your decorative vases and pots. Enjoy this rustic texture of bedroom wall with countless possibilities of decors and also works greatly as a pallet wall headboard for entire bed frame accent!!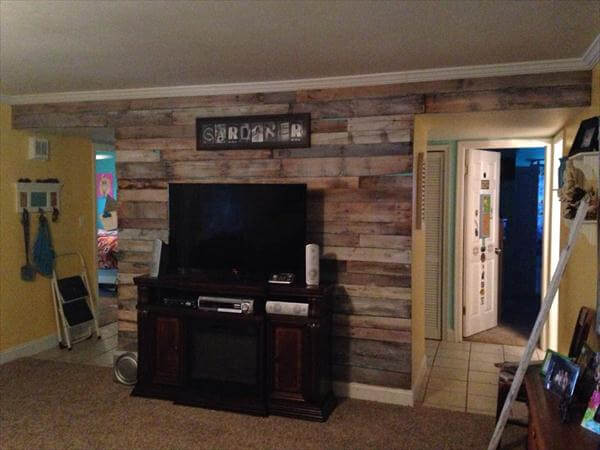 Feel the touch of wood on living room or media room walls, really adorable wooden work to give you the mid century inspired and vintage interior finish. Keep on using the pallets for such an luxurious and interior remodeling projects that are the most economical way to look your home more cozy and decent.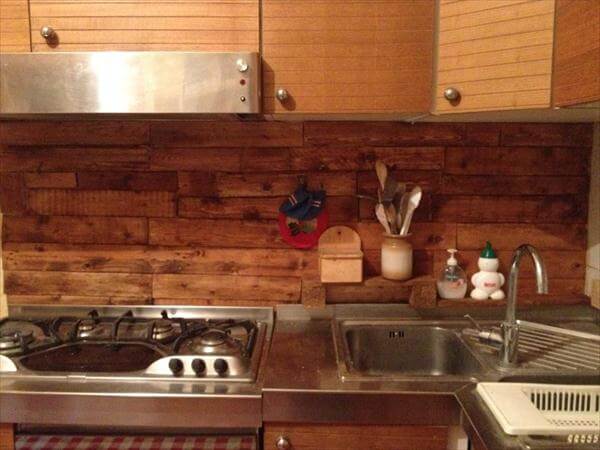 Kitchen or bathroom wall paneling will also be appreciated to make you wall stand out with inspiring weathered wood texture. Wood paneling also provides a safety coverage to make interior wall more durable and lasting. Wood paneling with pallets is really a nice DIY pallet furniture to make your home run down on a budget!!