Make interior and exterior portions of your home more flashy and showy by making them improved with wood medium. Here we are with some showcased creative thoughts and ideas to boost your creativity and to let yourself inspired with amazing wooden project that are just no-cost in budget. These 16 DIY inspirations pallet furniture projects have been planned purely from rustic shipping skids that come to us in used and weathered form. These skids are mostly reject for to be further used in homes but you can surely give them a one more chance to get them useful again for some serviceable character in home. Check out here some magnetizing pallet furniture ideas done with rustic pallets that give many dramatic statements of furniture and home interior wall decors.
No matter whether your home demands for rustic inspired wall arts, daily and occasionally useable furniture and also for home storage units, all can be planned successfully with pallets. Outdoor patio, garden and home decking spaces can also be brought to prominence using pallet by doing some pallet fencing and sitting furniture projects. Nature of pallets is really feasible and you can easily restyle and refinish them into new serviceable elements of furniture like that of tables, sofas, side tables, bedroom headboards and even the garden and porch benches.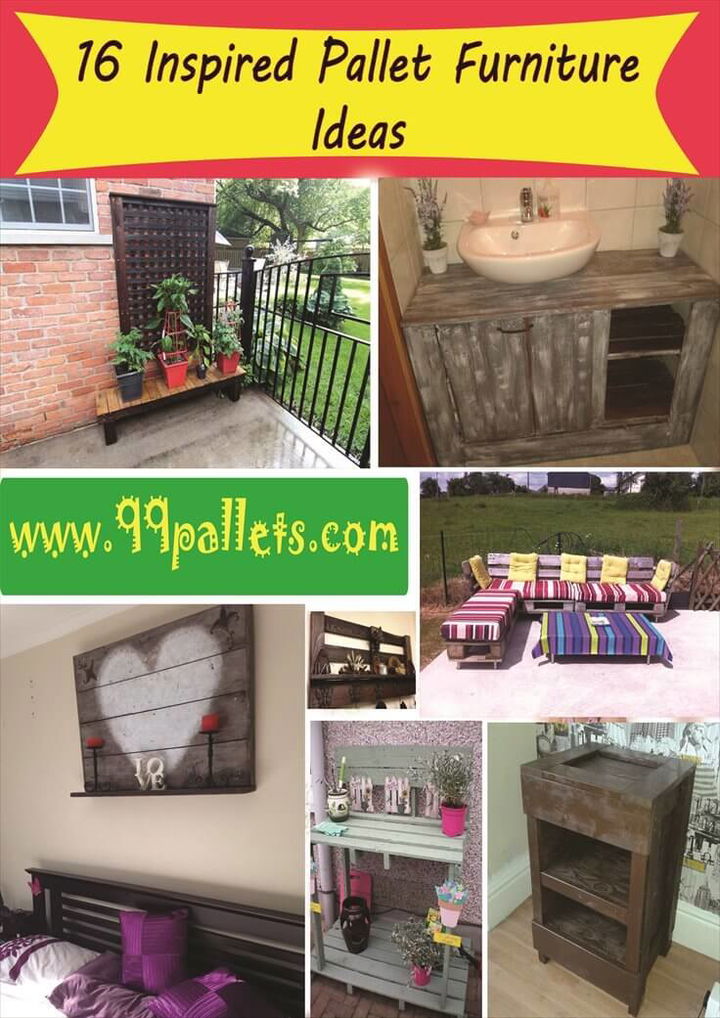 Do take a roundup of these creative DIY pallet ideas to get yourself more obsessed of wooden creativity and after you finished, the roundup you will surely find yourself inspired for sure!!!
Pallet Headboard:
Customize your beds for a more bold and dramatic statement by improving them with pallets. Fix the headboard accent to your bed and earn a modernized wooden look of your bedroom and rustic blank appearance is really inviting you to make some artful shapes and patterns for more cozy looks.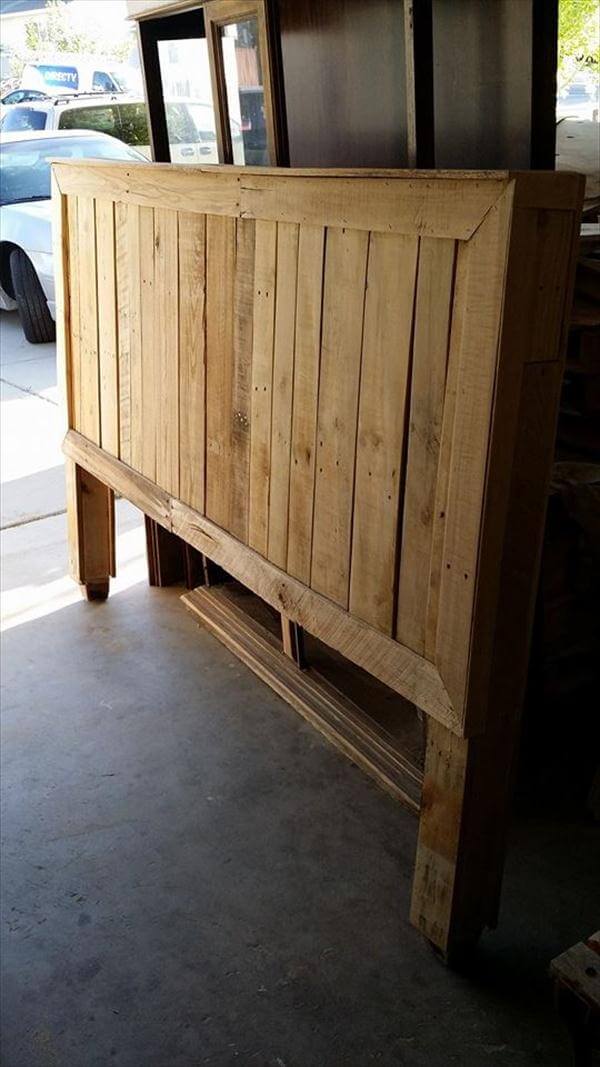 Pallet and Metal Accent Table with Glass Top:
Wood and metal treatment is always held divine and evident. Get this amazing expression of glass topped pallet coffee table, having much bold appearance to be in your living room. Make it more stand out by putting some items of decors on it as it truly held great for a beauty station or a living room centerpiece out of it!!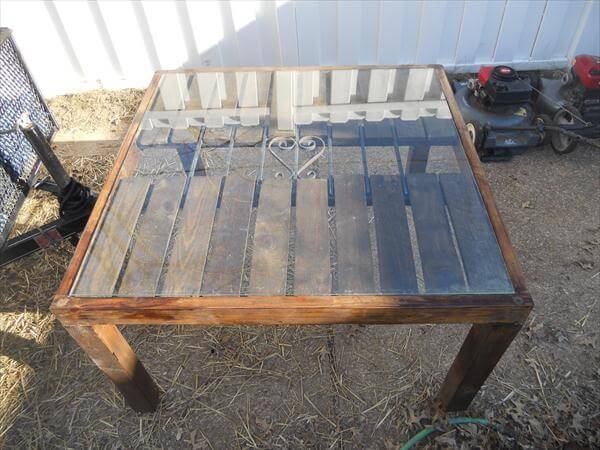 Pallet Bathroom Renovation:
Modify your interior space for more better looks and performance using pallets. Get your yourself inspired with this rustic demonstration of pallet bathroom remodeling that results into a super dark wooden wall texture and a chic vanity setup with storage, really an intelligent piece of work done by creative master minds.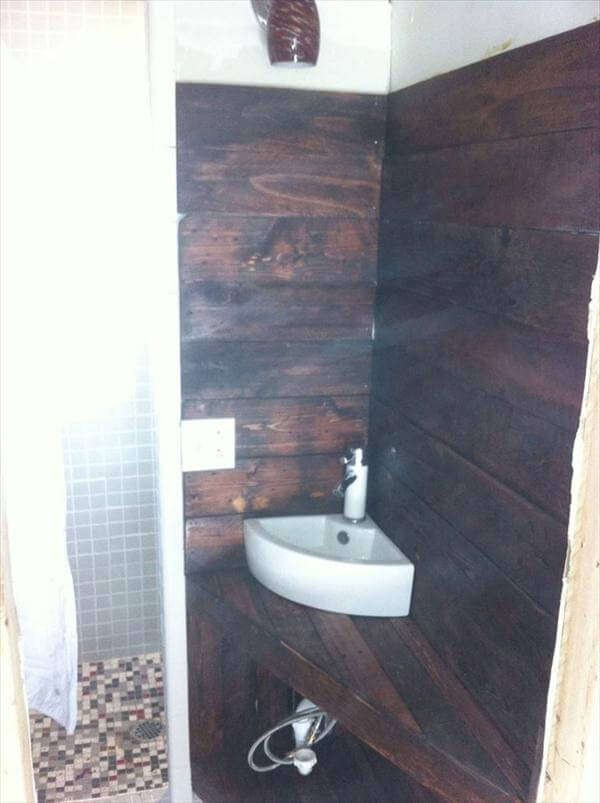 Rustic Pallet Bathroom Vanity with Storage:
This rustic vanity setup is really enticing, rustic inspired wooden shelving really helpful to store your bathroom supports and tools. Store you toiler paper rolls, shaving apparatus, blanket and towels in it and flat top is just best to organize your pots and vases!! Amazing project for pallet lover!!
DIY Pallet Bathroom Shelf / Vanity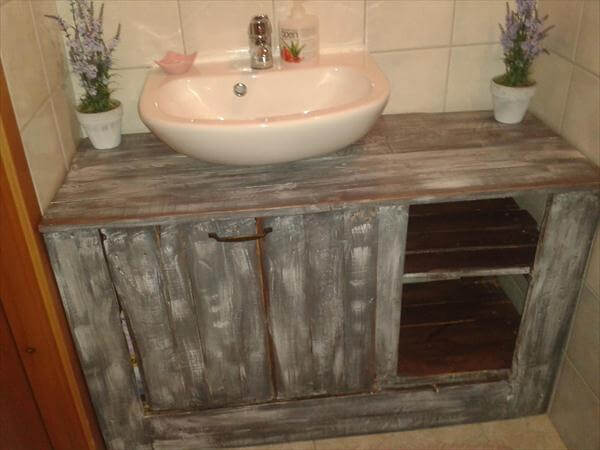 Pallet Cushioned Sofa or Toddler's Bed:
This padded mudroom sofa comes with a footstool and can make you lived with sitting and sleeping luxury, pallet boards have beautifully been installed given this long low height frame that can also be turned into a comfy toddler's bed. Black color can be replaced by any personal one!!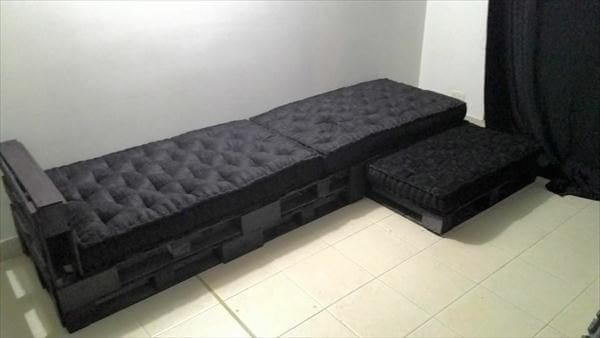 Pallet Outdoor Renovations – Accent Garden Entry:
Improve your outdoor like garden or home deck with pallet by building such an amazing decorative walls and fencing. This setting can also serve you as perfect decoration for some social event or ceremony. Nice and budget-friendly plan to build the sturdy wooden boundary around any selected outdoor area!
30 DIY Pallet Furniture Projects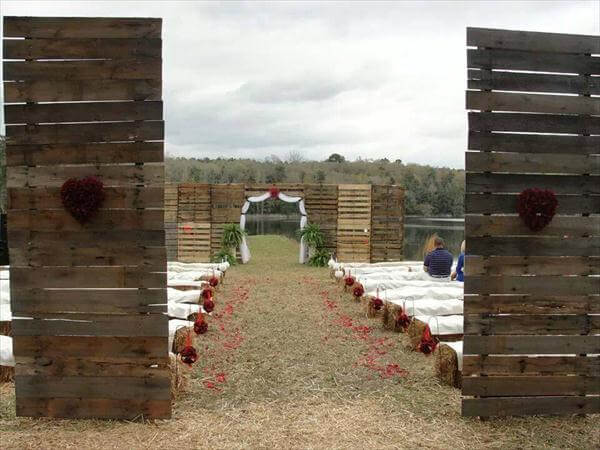 Pallet Entryway Potting Bench:
We always need some perfect plans to give a charming display to our decorative pots and flower planters and this entry way pallet bench will surely rock in this case, it comes with large low top that can hold better a gran row of flower pots. Amazing furniture idea to accent the mudroom, entryway and garden!!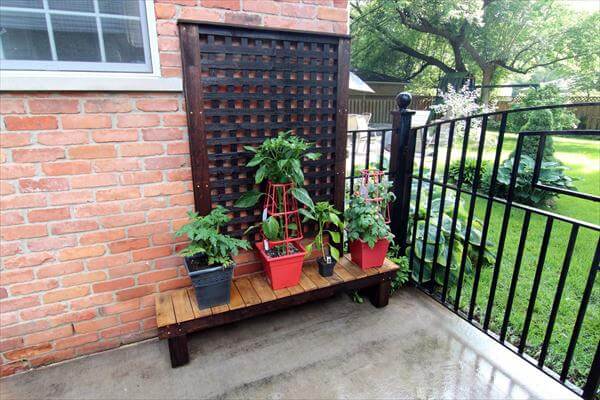 Handmade Pallet Floor Cabinet with Storage:
This is another swank project that you can do with pallets, the pallet floor cabinets comes with great inside shelving space to take good care of your books, magazines and other supports. Design is super comfortable to use as a nightstand, side table or end table, awesome piece of work to make you stimulated!!
Pallet Love Heart Wall Art:
How you can make your home wall look decent and attractive? The solution lies in pallet wood as it is also very easy to construct visually captivating wall art piece out of pallets, simply install some boards on wall and transfer your thoughts using paint and decorative material, on this board. This love wall art is really an example to consider better the use of pallet in home decors!!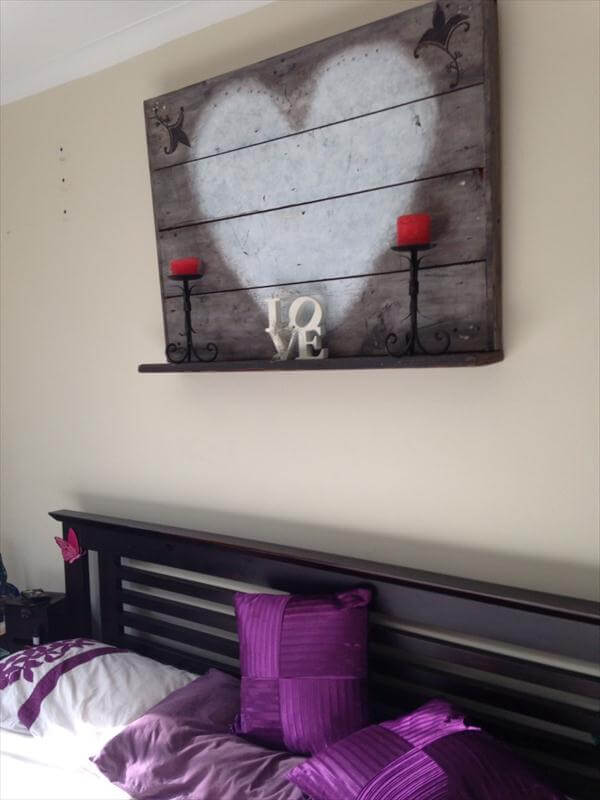 Pallet Patio Sitting Furniture Set:
Patio is also location of home where every one like to sit, relax and calm down. Build charming furniture for your patio sitting with much cost-effective plans. Give a try to this pallet patio furniture set build to last, amaze and inspire and is just zero in cost price!!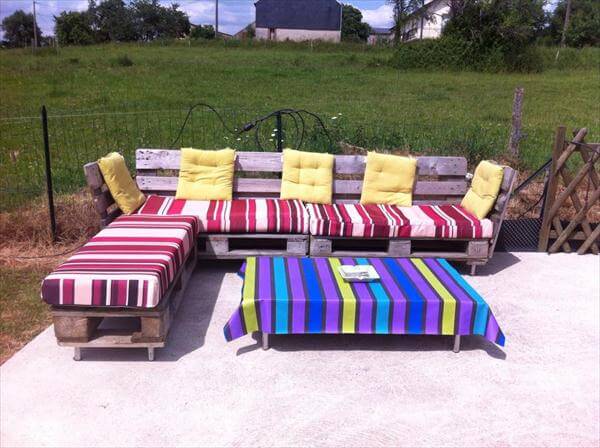 Grey Painted Pallet Garden  Potting Bench:
Potting benches and tables always held good for garden grooming and storage, however, this specific need of garden is not really tough to build with pallets. This grey painted pallet potting bench comes with two amusing and functional levels to take good care of garden tools, pots and other garden apparatus and stuff!!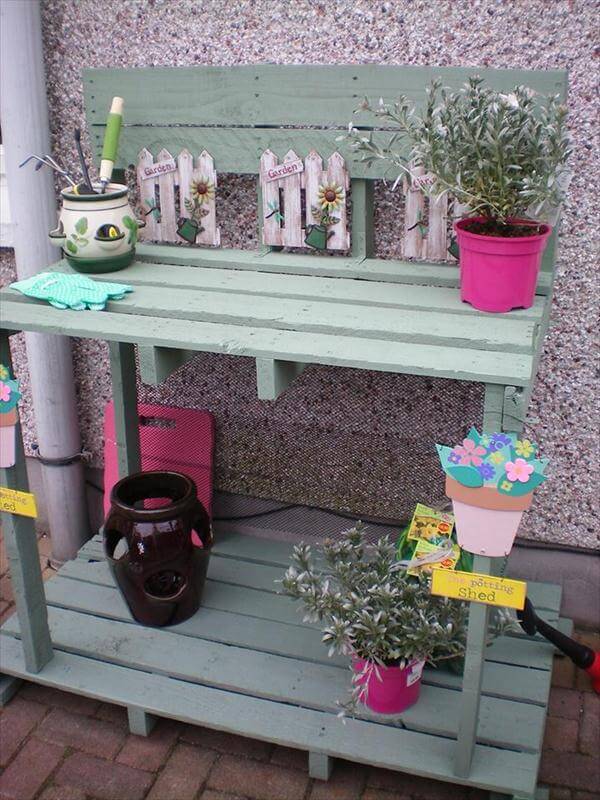 DIY: Pallet Potting Bench Tutorial
Pallet Interior Improvements – Pallet Wall Paneling:
Wood paneling is just great for interior wall safety and decorative edging. It is also a super quick way to get your interior isolated. However this amazing interior improvement ideas can also be planned with pallets and this given wooden wall texture just in front of your eyes, has purely been got from pallets!!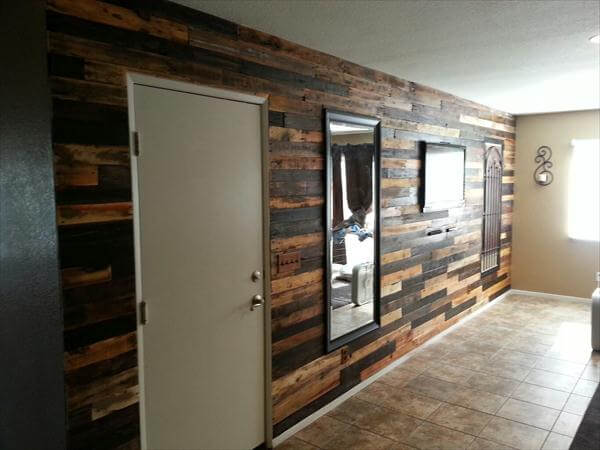 DIY Pallet Wall Paneling – Pallet Bedroom Walls
Pallet Multipurpose Vertical Wall:
Pallet comes in bigger rectangular board shapes with some left over spacing between the planks. So just fix them vertically without any modifying them to get beautiful setups for notice board, home mural and picture display and also for holding your items of decors and art.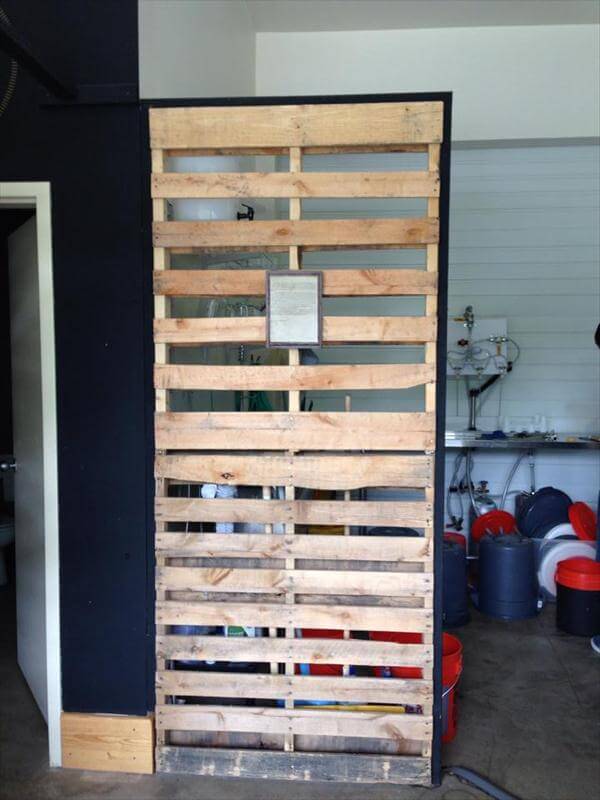 Vintage Inspired Decorative Pallet Wall Shelf:
Rustic and weathered look of pallet wood can also do a lot more useful for you, you can give a vintage or antique effect to any living area with use of it's naturally worn look. This vintage inspired decorative shelf is just best for your shabby chic, vintage inspired and beachy styled interiors!!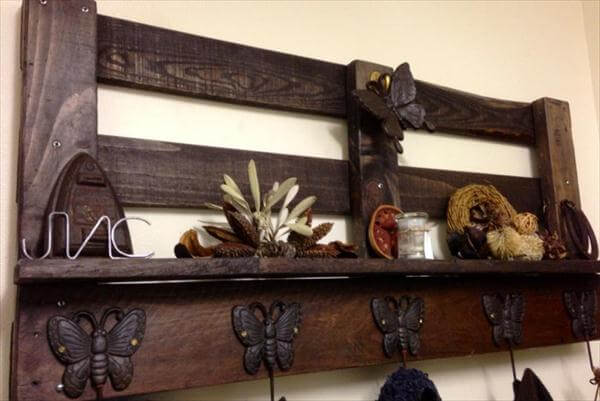 Antique Pallet Decorative Garden Wall:
Pallets can easily be installed for garden or home deck fencing and you can also construct some decorative wall units out of them. The Inspirational design of vintage inspired wall will surely hold the attention of your seated person at the deck. Some rustic inspired tools and decors have been reclaimed to give this handmade wall a traditional look!!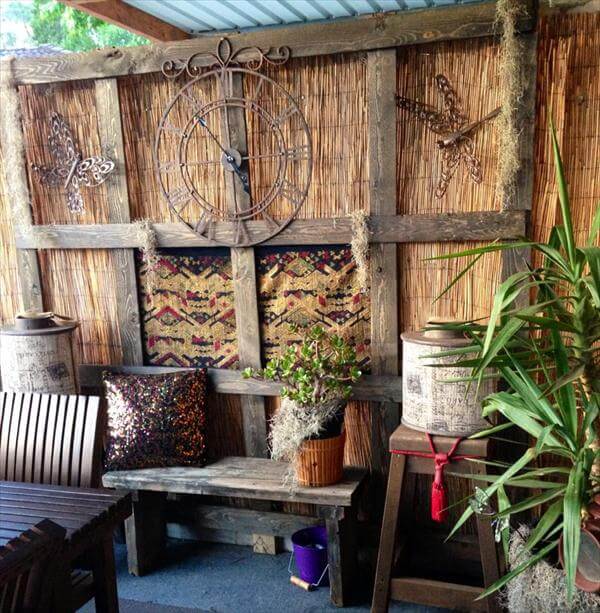 Rustic Pallet Wood Serving Tray:
This pallet tray will really play a serviceable role for your dining purposes. It features two reclaimed metal handles for easy control and have large rectangular design to hold different stuff like items of cutlery, spice jars and other supporting material for dining and breakfast purposes!!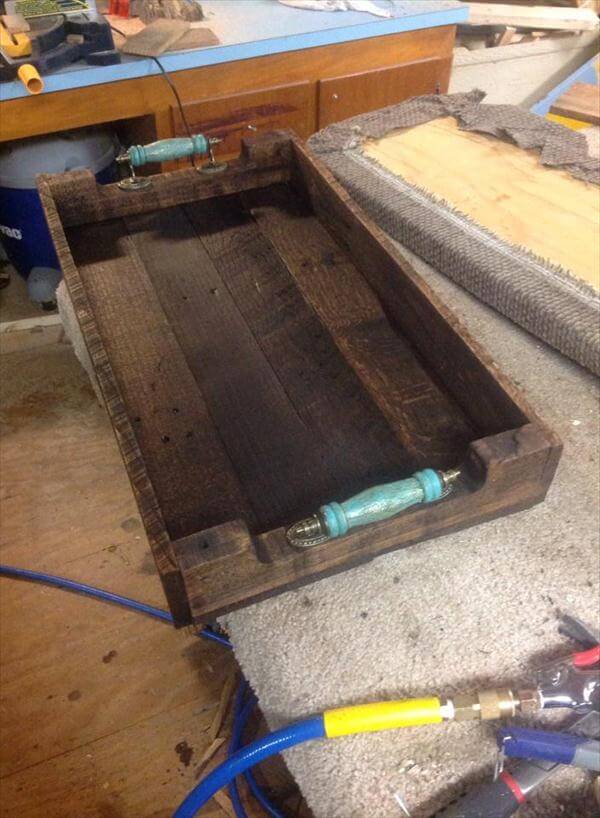 All these pallet ideas, improvement plans and furniture project take care of one thing especially which is your budget, budget is always important to plan anything as it can ruin all your schemes and projects. But you don't need to worry about it here all these ideas are budget friendly and mostly are free of cost, so every home lover can make use of pallets for such home improving projects.