You might be the beginner pallet furniture builder, if our guess is right then pallet benches are just best try you hands at very first attempt. Boards of pallets remarkably come in handy to be installed in benches shapes and you can enjoy them in your parks, garden, lawns and even in interior spaces. Do you really want a roundup to make your mind feed with more creative DIY pallet furniture ideas then just have a look on these given below DIY rustic pallet outdoor bench ideas that can accommodate multiple people to sit at one time. Check out the latest ways to reclaim the old wood of home to get something nice, different and functional. Great techniques and ideas of pallet wood recycling have been given here for genus craftsman and also for a dedicated beginner to get his inner creative person inspire!!!
The given collection of handmade pallet benches contains diverse styles with or without back and armrests. Pallets boards have wisely been accumulated to be turned into different serviceable shapes of benches through disassembling, sanding, cutting and refinishing.
Organize your patio, garden, front porch or pool deck side with these salvaged pallet benches that are too sturdy and lasting to live a full life time for sure!!
Sturdy 2 Seated Pallet Bench:
This is highly a beginner friendly suggestion, dismantle or cut a shipping skid and put the cut pieces together again to get this stunning design of wooden bench for outdoor sitting.
DIY Pallet Inspired 2 Seater – Pallet Patio and Porch Sofa!!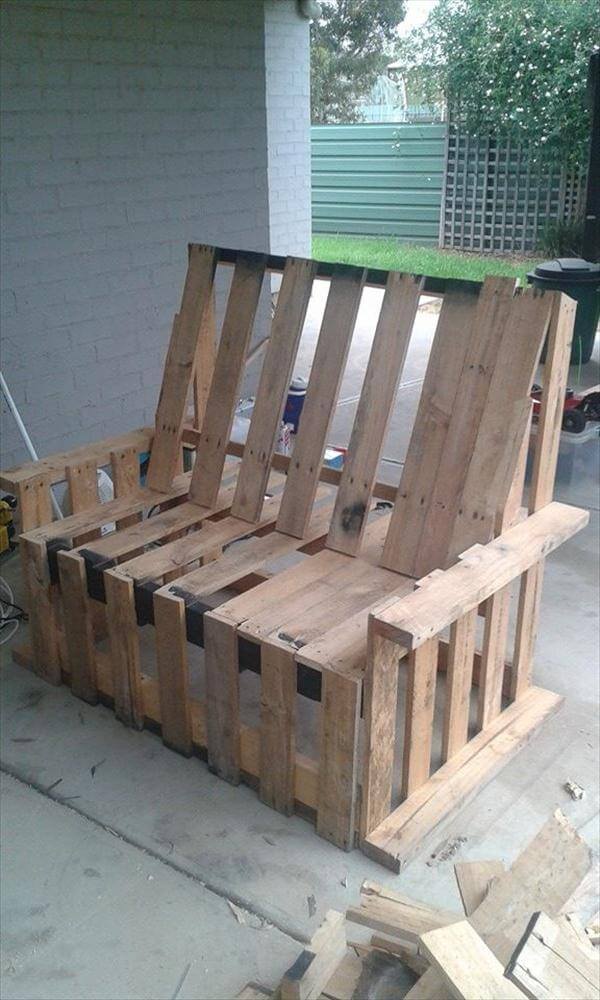 Ultra-Rustic Stained Pallet Wood Bench with Storage:
You can go for numerous optional changes to customize your pallet furniture elements. This vintage inspired bench or sofa design comes with two storage drawers at underside the berth section to hide your private tools and weapons!!!!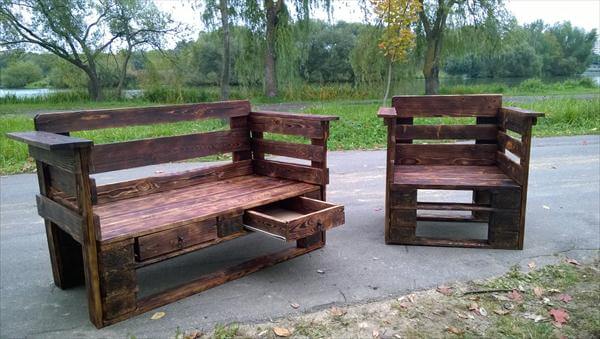 Creative Pallet and Wood Logs Garden Bench:
This example of pallet wood creativity is really going to amaze you!! The entire frame of this garden bench stands creatively on wood legs and tree branches while the back and berth sections has been built with pallets!! Nice and wise way to go for wood reclaiming!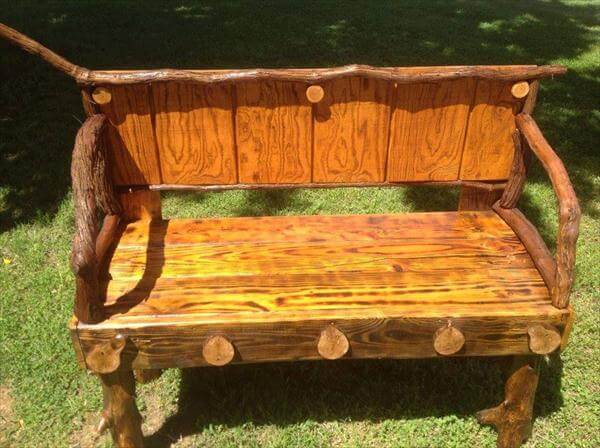 Hand-Built pallet Bench with Back and Armrests:
Check out this simply yet elegant style, would be awesome addition to your porch or garden space. Very affordable suggestion of pallet wood recycling to get a beefy outdoor structure of bench for super comfortable outdoor sitting.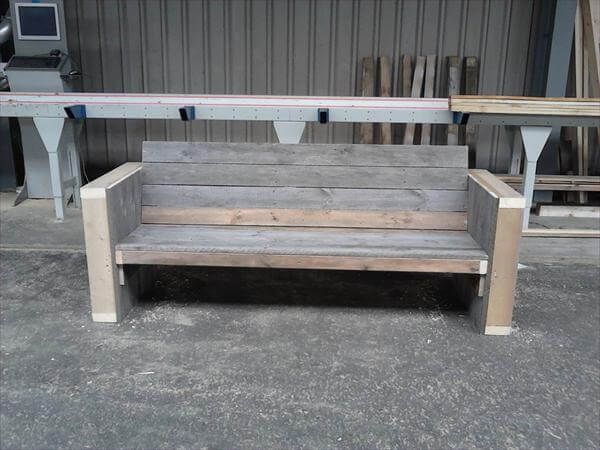 Rustic Natural Blank Wood Pallet Porch Bench:
Simply stack the pallet and arrange few ones vertically upward at the back yield a sophisticated style of bench. This DIY pallet furniture project is just free of cutting and reassembling. Make this rustic blank appeal cushioned to add comfort in it for more comfy appeal and feel!!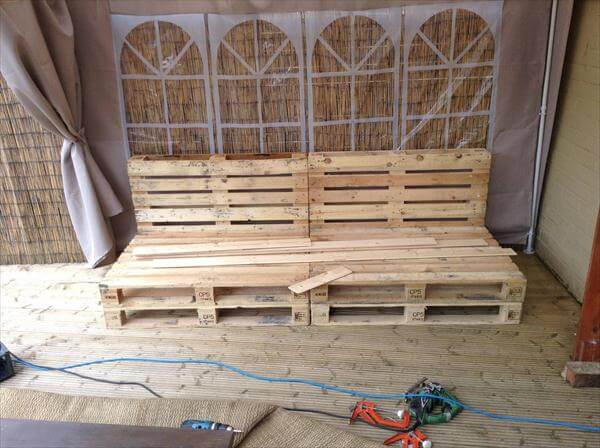 Vintage Inspired Pallet Garden Bench:
Built sweet little two seated pallet bench to lift up the mood of your garden. Organize your outdoor accent areas and patio with such benches to accommodate the outdoor sitting demands and desires!! Just great idea of garden furniture for book reading, relaxing and daydreaming!!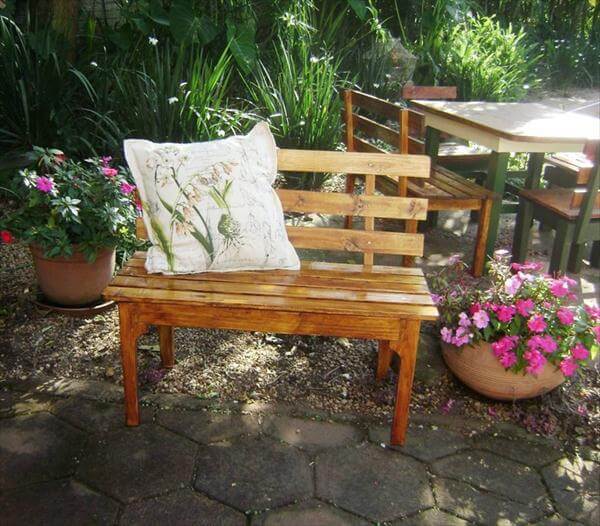 Recycled Pallet Outdoor Bench:
This is another good way to make the pallets useful again! x-large bench design with no-cost budget, really awesome!! You can build the elegant DIY pallet living room sofas and sectional sitting units with pallets that may be much pricey in their industrial and manufactured versions!!
Antique Weathered Pallet Garden Bench:
Enjoy this mid century inspired look of bench with yet elegant style, bent armrests and short but comfortable back is enough to make you feel great while sitting on it!! Great and amazing design of bench for pallet furniture builders and crafting lovers!!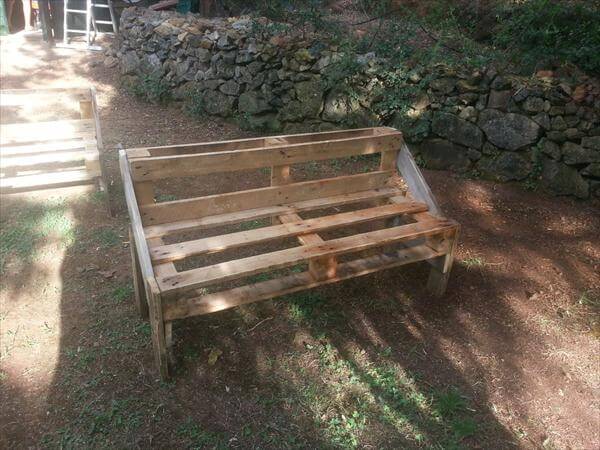 It is only the creative thinking and master minds of genius people around the globe that are responsible for such an appreciated and genius wooden structures.
By making DIY pallet outdoor sofas, side tables and coffee tables you can have a complete set of your patio sitting furniture to enjoy great outdoor summer evening and afternoons!!